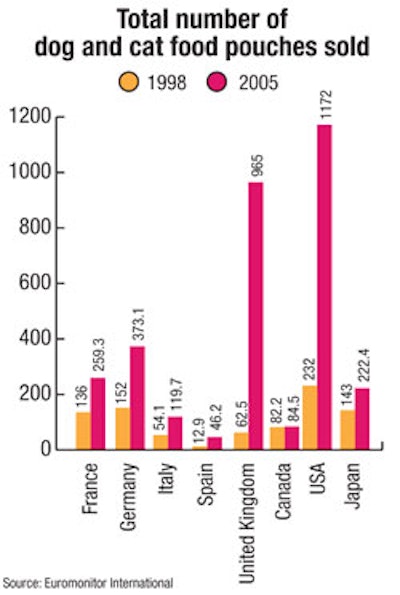 Whether they're purchasing lamb croquettes in savory sauce in France or green tea-flavored bonito treats in Japan, discerning consumers across the industrialized world are paying top dollar for high quality dog and cat food. As demographic trends lead to smaller households, dogs and cats have gained status, becoming "part of the family" for many consumers.
In response, pet food producers have gone to great lengths to position their products as premium. Packaging has been a key element, with shelf presence vital for producers looking to differentiate their products. Once rare, pouches and flexible plastic bags (often with resealable closures) are now ubiquitous in North America, Western Europe, and Japan, combining convenience with a glossy, striking presence in a sea of cans and coated paper bags. The speed with which these two packages have gained share shows what a tremendous opportunity pet food packaging offers across many of the world's largest consumer markets.
Nor is this opportunity confined solely to flexible packaging; already, producers have begun to look to other packages and materials--witness Nestle's Beneful Prepared Meals line in the US, in thin-walled containers with shrink-sleeve labeling, or Mars' Sheba Domes line in Western Europe, in shaped aluminum cans designed to mimic a covered serving tray. Packaging of all kinds will continue to drive sales here, as producers look to communicate a message of quality to ever more-demanding pet owners.