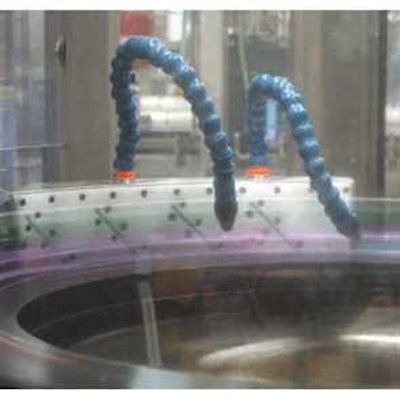 A bottling line started up in fall 2006 at Britvic Soft Drinks at Chelmsford, United Kingdom, to handle the company's Robinsons Fruit Shoot beverages is anchored by a space-efficient block filler for 200- and 300-mL PET bottles.
But there was one major problem: It was found in early production runs that the bottles were too wet for efficient labeling and ink-jet coding downstream of the block filler. Personnel determined that a drying system was needed to assist labeling and coding.
Initially, free-standing compressed air jets were added outside the block filler, but they proved inefficient, noisy, and expensive to run. The company then turned to
Air Control Industries
(www. air-con.co.uk), which suggested a hybrid version of its "JetPlate" plenum-based bottle drying system.
Typical installs of the ACI airknife system comprise two facing plenums, each with stepped air delivery slots that drive water down and off of bottles or cans.
However, because of Britvic's carousel block filler arrangement, a different solution was needed. Two specially engineered plenums equipped with four airknife slots were constructed and mounted directly on the conveyor track
inside
the block filler. It resulted in a safer, lower-cost solution than the compressed air alternative. In the picture above, the four slits on the plate provide the main airflow with incidental, supplemental air being directed from the blue, hose-like "nozzles."
"The ACI JetPlate system appears to be a very effective solution," says Britvic's project manager, Shayne Ford. "It dries the bottles effectively to ensure that paper labels can be applied correctly and do not deteriorate due to residual moisture, and so the inkjet-coding is sharp and legible."