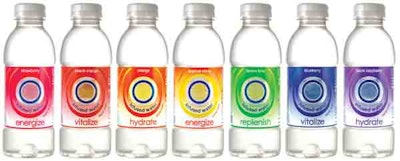 "We hot-fill the product on a traditional hot-fill line," says Tom First, founder, O Beverages. "Before, the biggest challenge was that if you hot-filled plastic, you had to have ribs in the bottle. With this new technology the ribs aren't necessary."
The PowerFlex features a vacuum-absorbing base. Previously, sidewall panels were necessary to absorb the distortion that occurs as hot-filled beverages cool to room temperature. A diaphragm within the base of the PowerFlex bottle draws upward as the liquid cools. It has the geometric characteristics to enable the inverted cone-shaped diaphragm to deflect upward as the vacuum is created.
The absence of ribs, or sidewall panels, makes the bottle easier to label and increases design options. "You have the ability to look through the front of the label, where the "O" is, and see the fruit on the back of the label," says First. "If we'd had ribs in the bottle, we wouldn't have been able to preserve that trademark look."
The surface of the bottles has a grainy texture—a feature that occurred by accident. Amcor uses a patented stereo lithography process to create rapid prototyping molds out of liquid resin. Because the molds are built by adding multiple layers of resins over each other, the surface becomes a little grainy. In turn, that texture is blown into the bottle prototypes.
"They sent us the prototypes, and I loved the way they looked," says First. "I had never seen an effect like that before on a PET bottle, so I asked Amcor to duplicate it on the commercial run."
Following on the heels of the company's successful 2005 launch of its first product—O Water—the new line offers an enhanced water in seven different flavors with 25 calories per serving. O Infused Waters retail for $1.29 to $1.79.
Companies in this article