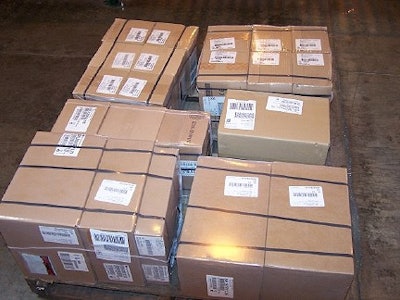 Several bundles are assembled as a pallet load totaling 100 to 500 calculators. The pallet's bundles may later be subdivided for delivery individually to a particular store. "Shrink" means using a heat tunnel, of course. Personnel had concerns for the tags' viability from the tunnel's 350° heat, so E&PS conducted its own tests using temperature gauges.
"We found that the temperature inside the tunnel would reach 350 degrees, but the actual tags on the cases never got hotter than 180 degrees," says Shields. "We didn't have to change our bundling process because every RFID inlay we tested read after being shrink-wrapped. This was good data regarding heat and RFID tags in actual applications that we had not found anywhere else in the industry."
For the shrink-wrapped bundles, each case has its own individual RFID tag, but there's not a separate "master case" tag for the bundled unit.
RFID-enabled display units
As the back-to-school promotions ramp up starting in late spring, E&PS will be RFID-enabling its "Special Packs," store-ready point-of-sale promotional displays. Made of corrugated, these are single sided, double sided, or four-sided units, "whatever the customer wants," Shields says. Each style has its own sku identification. Shipped on a pallet, the display units are assembled and filled before shipping and have an RFID smart label applied to the back. Shields expects these RFID-tagged units to provide better visibility into replenishment of special packs at the retailer: "We'll also know when they end the promotion and move the Special Pack to [Wal-Mart's RFID reader-equipped] box crusher. This will help us to help Wal-Mart reduce out of stocks."
For more on E&PS's packaging efforts, see Integrated strategy gives TI an edge in key selling period, published October 2005, p.40.