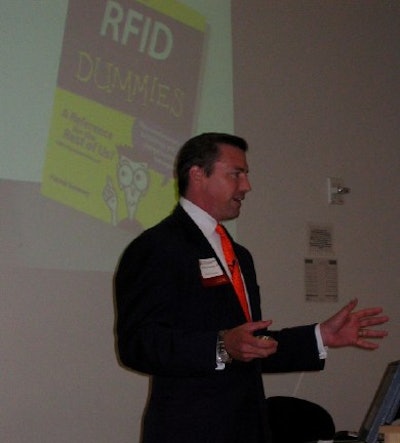 Patrick J. Sweeney II, president and CEO of Odin Technologies, and author of the book RFID for Dummies, spoke at an RFID event held at the University of Wisconsin in September ( see UW RFID lab inauguration, published September 2005).
Here are some of the comments Sweeney made during his presentation aimed at the healthcare/pharmaceutical markets: "Last year in pharmaceuticals there were more than $2 billion in returns, including overstock product, and 1괌 product recalls initiated either by the FDA or by companies themselves. RFID could dramatically cut down the volume of returns, overstock, and mass recalls. For instance, if one bottle of a particular drug was found to be [tampered with]-say a thief cut out the bottom of the bottle, stole the real product, and replaced it with aspirin to send through the supply chain-if the FDA found that one bottle, often times the entire batch would need to be recalled. RFID would allow the chain of custody of that bottle to be tracked to find who touched it, and also other bottles to be identified from that batch."
What are the primary benefits RFID can deliver for medical device packagers? Sweeney explains, "Most medical device makers have a significant issue with lost inventory, since much of what they provide hospitals is consigned inventory, meaning they only pay for it when they use it, so RFID could provide more accountability."
How do healthcare firms compare to food and beverage companies when it comes to the use of RFID in the packaging process? "From an adoption standpoint, the pharma and healthcare companies are behind the curve. From a technology standpoint, they're ahead of the curve. In the healthcare industry, there are a smaller number of companies adopting RFID, but those that are implementing RFID are more aggressive.
"Specifically, food and beverage companies implement RFID primarily at the case and pallet level. In healthcare, be it a nutraceutical, pharmaceutical, or medical product manufacturer, the company is using RFID at the item level. Healthcare firms see a substantially higher return on investment by item-level tagging. Why? Because one bottle of a cancer-fighting medicine may have a value of $1ꯠ, so a 30-cent tag is more easily justified than it is on a $1 bottle of shampoo that might have a 10-cent profit margin."
Companies in this article