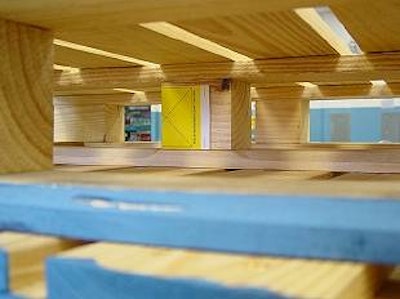 CHEP, the world's largest supplier of wooden pallets, offers CHEP Standard PLUS ID RFID-enabled pallets, which cost about 50¢ per pallet more than a standard CHEP pallet.
For that, customers receive a tagged pallet that's 100% guaranteed to be readable, says CHEP USA director of marketing Per Ohstrom.
The pallets are growing in popularity. Although they represent only a tiny fraction of CHEP's estimated U.S. pool of 75ꯠꯠ pallets where it supplies most of the large supermarket and club store chains including Wal-Mart, Target, and Albertsons, CHEP is shipping 20ꯠ to 30ꯠ PLUS ID pallets a month, Ohstrom says.
"There are a lot of these pallets in trials, especially in Texas," says Ohstrom. "Retailers are extremely interested in this technology, but manufacturers are more hesitant—they seem to see it as something that's required rather than something they really want to do for themselves."
Tags folded and stapled
The 4"x6" tag is attached to the four-way pallet's center post (shown in picture) to minimize damage, especially from forklift trucks and drops, and to maximize its readability. The RFID tag is folded over and stapled to two sides of the center post. While folding and stapling seems the last thing one would do to an RFID tag, Ohstrom says it works better than gluing or welding; both methods were tried. The tags are laminated for protection by what one source described as a 10-mil (front) and 4-mil (back) films.
Ohstrom says they tested 40-50 different tags before deciding on Matrics, now Symbol Technologies, for use in the U.S.
"[Matrics tags] were selected for functionality and durability," Ohstrom says, noting that their RFID pallets must withstand temperatures ranging from –40°F in Michigan to 100°F in Miami, for example.
Overseas, other tags may be used. Ohstrom says the company is more concerned about standards and protocols than particular vendors.
RFID benefits
CHEP also expects to take advantage of the RFID-enabled pallets for its own inventory and tracking uses once volumes increase.
"There's a lot to gain with RFID," Ohstrom explains. "We believe customers can gain short-term benefits from using the technology. It can simplify shipping and keep track of loads, but it takes more infrastructure in hardware and software. And manufacturers need to tie it into their ERP systems, though few have started to do that yet."
When asked what's ahead, Ohstrom says that there are no large-scale trials in the works. However, he suspects that a trial will materialize that will involve more than one retailer.
Companies in this article