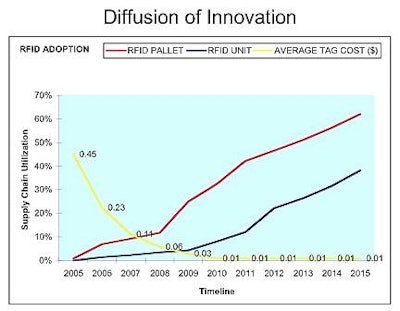 Results from a new study on RFID completed at DePaul University's Kellstadt Graduate School of Business in Chicago were announced April 21, 2005. The study analyzed the adoption rate of RFID at the individual product level. The surprising result was that the benefit for marketing purposes will match or exceed benefits in warehousing and stocking cost reduction.
"Adoption will occur far faster than expected due to the economic benefits and the new technology for producing RFID tags," states Patrick Yanahan, president of USA Strategies and sponsor of the study. The history of the development of the existing UPC bar code was used as the basis to predict the adoption rate of RFID at retail for individual product identification.
The RFID study was sponsored by USA Strategies, Inc., and conducted by graduate students under the direction of Henry H. Rodkin, executive in residence at DePaul University. The study found striking contrasts between the initial adoption of the original UPC bar code and the expected adoption of RFID tags on each individual package at the retail store. Notable among the results are:
The cost of the tag itself was not the barrier to adoption time of the technology, but rather the infrastructure required to get the scanners and software systems installed at the store level.
The benefits for in-store merchandising, dynamic pricing, and electronic couponing will be the greatest with this technology.
Retailers will benefit from expanded marketing information, real-time merchandising capabilities, and express check-out services when RFID tags exist at the unit-level
Reducing stock-outs on the shelf will be a major benefit of the new system within the store.

Instant profitability

"Most retailers don't really know what they have in the back room to restock the shelves," Yanahan says. "This will increase store profitability immediately because the system tells the retailer what is on the shelf, what is in the back room and what to order for replenishment. The ability to gather shopping habits real-time while the customer is in the store far exceed the drive-your-cart through immediate check-out benefit."

"This is going to be an exciting example of how technology developed for one purpose will turn into a significant marketing tool," adds Rodkin, the DePaul professor who directed the graduate students. "Much like the Internet was designed for networking national labs with researchers, it really changed the world for everyone. This technology will change the landscape of retailing forever."

USA Strategies is a marketing and research agency specializing in packaging, food and beverage industries for over twenty-five years. The firm is located outside of Chicago and has offices in Europe and China. For a copy of the studies summary results call Patrick Yanahan at 630/920-1929 x1, or by e-mail at pyanahan@usa-strategies.com.