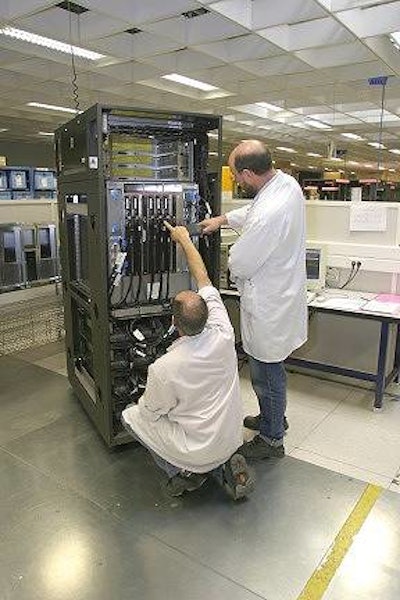 RFID-enabled reusable plastic containers will be used to shore up the 1귔-mile supply chain between IBM's Integrated Supply Chain (ISC) operations in Montpellier, France, and Dublin, Ireland. ISC is a division of IBM with 19ꯠ employees responsible for activities including customer fulfillment, manufacturing, logistics, and procurement. The Montpellier operations provide server components and miscellaneous supplies packed in the RPCs to Dublin. From Dublin, the servers are assembled for shipment to customers worldwide.
The Montpellier to Dublin, distribution-center-to-distribution-center route is via truck-boat-truck-boat. At its fastest, it's a 36-hour trip, according to Thierry Mottaz, server engineering, quality & customer support manager of IBM's ISC. About 99% of the RPCs are returned empty to Montpellier, he says.
Although volumes aren't large, the supply chain's link is absolutely crucial for IBM's ISC, Mottaz emphasizes. RFID will improve asset control and supply chain visibility, he adds. Launched in 2004, the program is rolling out in three phases.
Origination
Mottaz, who has 20 years' experience with IBM, was given the task in early 2004 of innovating IBM's supply chain. He felt it made sense to implement RFID tagging as a track-and-trace solution for the RPCs the company was already using.
"Purely manual," Mottaz says of the noncomputerized, nonbar-code printed serial number they used before. "We did not have major problems before, but we see this as an opportunity to improve our supply chain." He enlisted the help of a five-member team, some experienced in RFID.
He says the components are closely monitored—they never lose components—but there was no focus on the RPC itself. IBM maintains a pool of 200 heavy-duty RPCs, which are supplied by Linpac. The 3'x4'x3' plastic bins have a sealable lid and collapsible sides that fold down and have a pallet base molded in.
Proactive solution
Unfortunately, IBM's RPC supply can run out unexpectedly at peak times. "Then we use wooden pallets and one-way corrugated containers," Mottaz says. With the new end-to-end RFID process, we will monitor how many RPCs arrive in Dublin and how many leave. We can better manage our inventory, anticipate when we'd run out, be more proactive, and provide better service within our supply chain."
Through this project, IBM will "learn RFID technology, demonstrate that it is successful, fine-tune the hardware specifications and develop the software and expand it to other applications," says Mottaz.
Phase One details
IBM is currently implementing Phase 1 of three phases for the program. Phase 1 is to RFID-enable the first leg of the supply chain in Montpellier. IBM developed a lab scale system as a proof of concept that is scalable to the manufacturing level. In this pilot phase, IBM is using passive RFID Class 1 tags from Rafsec that are based on Philips Electronics's UHF U-Code EPC 1.19 microchips. The software is IBM's own WebSphere RFID Premises Server middleware customized by IBM personnel. "We eat our own cookie," says Mottaz of the in-house expertise.
Mottaz says that the group decided to keep things simple by launching into Phase 1 using conventional Class 1 RFID tags. The next part of Phase 1 is to determine the specific location of the RFID tag on the RPC so that it can be read repeatedly through a fixed antenna portal. Mottaz expects the RFID tag to be applied to an external corner of the RPC.
"For the longer term solution for Phase 2 and 3, we will need a more rugged RFID tag," he says. "In the final version, the tag will be embedded into some kind of casing to protect it."
Phase 1 includes proving at the Montpellier facility that a combination of hardware—tag, readers, antenna, UHF, RPC—moving through a portal automated at different speeds in an industrial environment can be viable solution. "This RFID solution can capture the events in a life of our RPC," Mottaz explains.
The major goal is to implement a real-time, on-demand automated inventory management system. Thus, the portals will be fixed since most of the RPC flow can be directed through them. "That makes it consistent and less prone to human error." Manual intervention, Mottaz adds, will be limited to special cases such as when a new tag has to be programmed and applied onto an RPC.
The SAMSys antenna-reader portal will be a steel-frame structure with cabling for sensors. After fine-tuning of the portal in the lab in IBM's Paris facility, it will be relocated to Montpellier during 2Q 2005. At the time of our spring 2005 interview, IBM was reading tags semi-automatically in a bench top setup in the lab.
Phase 1 is planned to run through summer 2005. After a final report September 2005, IBM will identify adjustments before initiating Phase 2 before the end of 2005.
Phase 2, Mottaz explains, will involve deploying at the Montpellier site the final tags, final equipment for readers and antennas set up at key reading points/gates. Phase 2 will be completed when they establish five reading-point portals in the Montpellier distribution center.
Phase 3 will be to duplicate the setup in Ireland. Says Mottaz, "we want to be completely successful at Montpellier before we deploy in Dublin."
Future applications
Mottaz says while Montpellier-Dublin is an easy-to-control, closed-loop supply chain, "we have many other opportunities where this can be duplicated for other types of containers." One example he relates is expensive, reusable wooden crates that can be the size of a large refrigerator in which servers are shipped from Dublin to customers all over the world. Once the server is unpacked, the costly crate can be centrally collected and returned.
"We have thousands of these crates dispersed throughout the world," says Mottaz. "It would be a most exciting implementation of RFID tags to improve inventory management to expand to this type of container. This is a typical container challenge of distribution and logistics today: How many containers do I have, where are they, how many are usable, and how many are damaged? RFID offers us an on-demand solution."
Real-time inventory control
"With RFID, we can have real-time inventory," says Mottaz. "We want to be able to know the status of our inventory instantly. Today, the only way to know that is to go into the warehouse and count how many RPCs are there—and then you don't know how many are in the 'pipeline.' With this RFID system, from my office, I can access a Web site with a Java applet. The corner of my computer screen will display the inventory with all the good information that anyone involved in logistics would like to know. Things like 'Are we running out of something?' 'Are we in a critical situation?' Bringing this type of information to managers in the supply chain is going to be a cutting-edge advantage if we can get there quickly."
We asked Mottaz what IBM has learned thus far. "I can say it works!" he enthuses. Personally, he has found the experience to be uniquely positive.
"Even with my seniority at IBM, this project is the first time I have received e-mails, phone calls, and inquiries from people interested in a project," says Mottaz. "There is huge enthusiasm with RFID. With this project we are pioneering something unique that will change the future of supply chain logistics. It will enable the way we do business on-demand."
Editor's Note: We have listed United States contacts for the companies mentioned.
Companies in this article
Videos from Klöckner Pentaplast Food Packaging