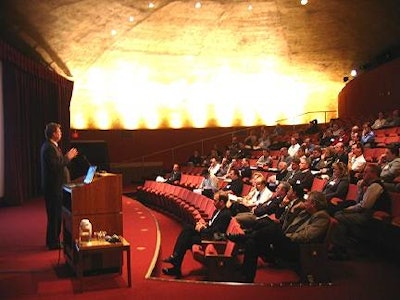 "RFBS?" That was an acronym coined by one of the speakers at a recent "RFID Technology Overview" meeting to describe some of the hyperbole surrounding radio frequency identification devices. Make no mistake, though, despite the hype, the potential capital outlays and the challenges the technology may present, the use of RFID in packaging could be profound.
That was the overriding message at a February 9 IoPP Wisconsin Chapter meeting in Racine, WI, co-sponsored with the University of Wisconsin-Stout Consortium. Appropriately, the event was held at S.C. Johnson's Golden Rondelle Theater, a futuristic-shaped structure affectionately deemed the "golden spaceship" during welcoming statements by S.C. Johnson's Jeff Corbat. Although the well-known consumer products company didn't discuss its packaging or RFID plans in any detail, the afternoon event included the following presentations:
Jim Stoffer, RF Engineer with The Glennon Group, who discussed RFID tags and frequencies, as well as privacy issues. He indicated that future "intelligent" tags could be developed that could provide much more than tracking information.
Tom Wolff, manager of business development with Rockwell Automation, focused on the company's testing of RFID at three Midwest plants. "What the cost-benefits are to customers," is a key objective of the company's research. "We need to test what the opportunities are for RFID and what the benefits are to industries. RFID is a wonderful enabler," he said.
Murat Ogulcan, RFID engineer with Avery Dennison spoke on tag manufacturing, label converting, and tag cost drivers. He spent considerable time discussing Wal-Mart's role in driving RFID, noting that it could require some 500 machines operating 24/7 to produce the tags to meet Wal-Mart's projected RFID requirements. He predicted that bar codes and RFID will be used together for the next three to five years. He warned that RFID antenna quality must be good, indicating that there's room for improvement in RFID tags since "20 percent of tags are [often] no good. That's part of the reason why it's so expensive."
Rob Manak, regional sales manager with The Glennon Group, provided a historical perspective on RFID. He said, "If Wal-Mart were a country, it would be China's seventh-largest importer," describing the retailer's powerful presence. He said new cushion labels that cradle the RFID chip can help prevent damage and resist harmful electrostatic discharge.
Dave Uland, R&D executive officer with WS Packaging, presented information on RFID tagging at high speeds. He, too, said that 20% of chips were defective, resulting in high costs for users. He said that problem hampers production speed in manufacturing RFID labels. "So the real cost isn't just in the price of the RFID label, but also the yield," he said, adding that as RFID tag quality improves, "higher yields will help drive down costs."
Companies in this article