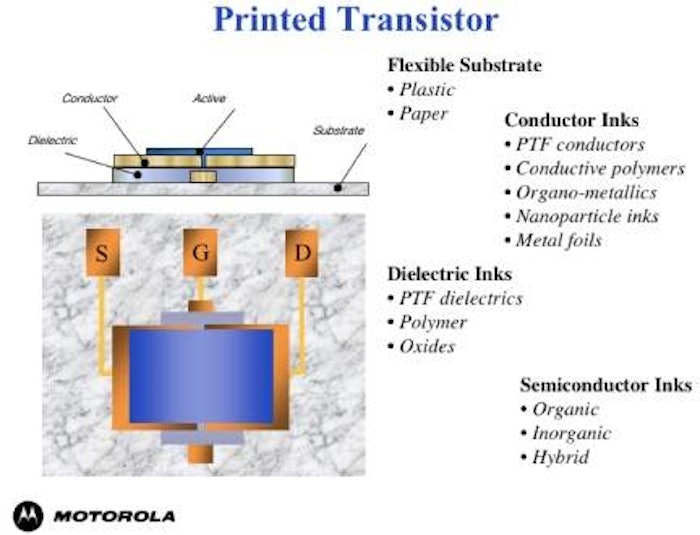 A 20-member printed electronics team within Schaumburg, IL-based Motorola has developed technology to bring breakthrough, cost-effective potential to packaging and other applications including RFID tags. Interest in the group's printed electronics has spread to a range of companies from printing press manufacturers to packagers. Although the companies could not be identified, they are familiar names throughout the packaging and printing industries. They include several Japanese packaging suppliers, printing press manufacturers, a European global packaging materials and machinery vendor, and a major United States-based foods manufacturer.
"Printed electronics are a low-cost solution in circuits manufacturing," says Motorola team leader and director of business development Dan Gamota.
Key ingredients
Motorola's printed electronics technology comprises functional inks, a printing press, and Motorola's know how—what Gamota calls the "recipe" to put it all together—in designing the circuits that permit them to be printed. A flexible substrate such as paper for a sheet-fed press or rollstock plastic film or paper provides the carrier. Printing speeds for these electronic circuits remain the same as for conventional graphic ink printing: 500 sheets/min for sheet-fed operations and 100 to 300 ft/min for web substrates.
Technology made practical
The technique requires the printing of four layers of three different materials, meaning a printing press of at least four colors or stations, exactly as is used for conventional full-color CMYK printing. Three different materials—a conductor, a dielectric, and a semiconductor—are needed to create the electronics that comprise transistors and functional circuits.
Motorola has found that any printing method will work including offset, screen, flexo, gravure, or ink-jet.
An overlacquer, standard with many package printing operations, would provide the printed electronics the protection needed. There's also the need for both UV curing, which is common, and thermal curing, less common, in the same operation.
"Over the last four years, we've proven that not only can electronics be printed, it can be done economically," Gamota says.
The technology also has application for printed RFID tags.
RFID possibilities
The excitement in RFID has really focused attention on this technology, according to Gamota. For RFID, the antenna and chip could be created at once during package printing.
Thus, the RFID electronics are printed on a pressure-sensitive-label during label printing, rather than added separately. The production of printed RFID "tags" in a single pass knocks a whole costly assembly step out of the production process. That makes possible economical RFID tags, on the order of 10 to five cents each, Gamota says. That's been the Holy Grail for RFID all along.
"Item-level RFID 'tags' become economically practical," Gamota adds, though he admits there are big, albeit surmountable challenges ahead to commercialize RFID printing and converting applications. Those include:
Near 100% production yield
Strong supply chain with multiple vendors for inks, substrates, printing platforms, testing platforms
Higher performance inks with longer shelf life
Talented engineers and operators with a combined skill set of printing and engineering
Testing Standards and "Standard Operating Procedures"

Gamota says that printed RFID tag prototypes are still 18 months off provided everything falls into place.

However, Gamota anticipates yet this year a "controlled" in-store trial for a printed electronics product. Meanwhile, stay tuned as Motorola's Printed Electronics Team continues to push its technology into packaging and RFID applications. Motorola's Dan Gamota can be reached at the phone number listed below.
Companies in this article