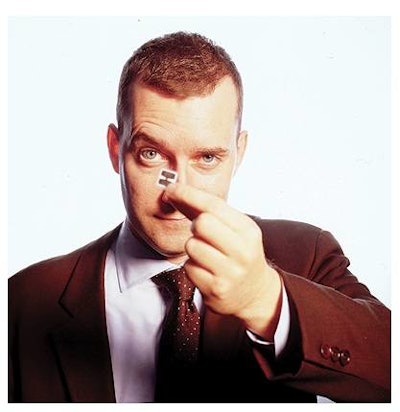 Unprecedented technology
Five years ago when I talked about radio-frequency identification in the supply chain most people laughed and threw me out of the room.
This year Top 100, blue-chip companies will start to use RFID.
That's extraordinary, probably unprecedented growth for a "new" technology.
Usually, new technology starts in a niche by a small company or university somewhere on a noncore business venture and gradually evolves into something big companies want to use for important activities.
RFID has moved straight to the end game where the world's largest companies are using it for their most important operations and they want it to be perfect.
What Wal-Mart Top 100 compliance means
It's never been clear what Wal-Mart compliance means other than that all of the Top 100 are required to put RFID tags on some items. That will expand as the year progresses to more key [product] lines. There won't be too many on that list who have done nothing, and there won't be many who have done everything. It's been surprising how much procrastination we've seen. Many are just figuring it out, and some leading companies are all over it and understand it.
The difference between those two groups is the quality and ability of management. The sponsorship of RFID by a bright and dynamic [chief]-level officer is a tremendous advantage.
The difference between an RFID leader and a follower is that the leaders have new challenges and have solved problems that the followers are only now coming across. It takes a while to figure out RFID. Some companies like Hewlett Packard, Procter and Gamble, and Gillette have been planning for RFID since 1998 or earlier.
Top 100 is actually closer to Top 137 as a number of companies have volunteered to be part of this first wave for Wal-Mart [These "second-tier" companies include Beaver Street Fisheries, which was featured in the December issue of RFID Antenna.]
Size doesn't matter, but the smarter you are, the easier RFID is.
Know that the companies having the most success in RFID are making the least noise.
RFID is all about measuring and managing reality.
Smart labeling now
We're definitely in the smart labeling phase now. The "one size" fits all—one smart label for all items—is not a long-term solution for RFID and certainly not for individual items.
The best way to write to a tag now is to have the tag as close to the readers as possible. Reading is relatively easy to do at a distance, but to write to a tag, closer is better. Readers are writers if the tag itself is writable.
The printer-encoder seems to be the most process-friendly approach. I don't see a reason to write to the tag after it is affixed, as some have done. With companies we've worked with, the easiest and most efficient way to add labels to a package is with the RFID tag in the label.
Next step: RFID-tag-embedded packages
While labeling of RFID tags [smart labels] is ongoing, the next obvious step in RFID is the integration of the RFID into the package itself. Some big packaging companies like MeadWestvaco, International Paper, and Georgia-Pacific are looking hard at how to do that.
I've even seen where they put the RFID tag into the corrugated because it's easy to prototype it that way. But to do this efficiently in mass production is a very different question.
The earlier in the supply chain you use RFID via the EPC (Electronic Product Code) number, the more value you can obtain from the tag and from RFID.
The ideal solution
To me, the long-term and ideal solution is that at the moment you turn corrugated into an item or some kind of stock-keeping unit (SKU), perhaps as a case, that's when you get the EPC number on it. At that point, it's the property of the package converter to use through the supply chain.
There's no reason why that EPC can't be used by the converter's customer (the packager), who can associate its product with that EPC. Alternatively, if the packager wishes to take ownership, it can rewrite the tag or add a number to the tag.
The most elegant solution is where the EPC is applied earlier. Keep in mind that in the supply chain, one company's part is another company's product. And tracking things that aren't finished goods is another important role for RFID.
You are in the supply chain. When the item comes in your back door it's already tagged, and you have an audit trail for it. Then when it goes out your front door (as a finished good), it will have another tag on it.
That's the ideal solution, but it will take a while.
Won't RFID naturally trend toward the most efficient solution?
Not necessarily—it will if you assume all players are rational. Change is driven by people, and they have multiple priorities and limited time, and they are generally comfortable with doing things the way they have always been done.
I've learned that what affects the speed of deployment is not technology, it's psychology—it's people.
How can packagers leverage having RFID embedded in incoming packages or packaging materials?
By reading the tag, you can identify what package part it is and make sure you're filling the right package with the right product. When RFID gets to that point, you may have potential for more customized automation in packaging production. That could mean faster changeovers and more efficient production lines.
These kinds of things are "second order, nonobvious" applications of RFID—where things get incredibly interesting.
RFID Antenna will present Part 2 of our interview with Kevin Ashton next month.
Companies in this article