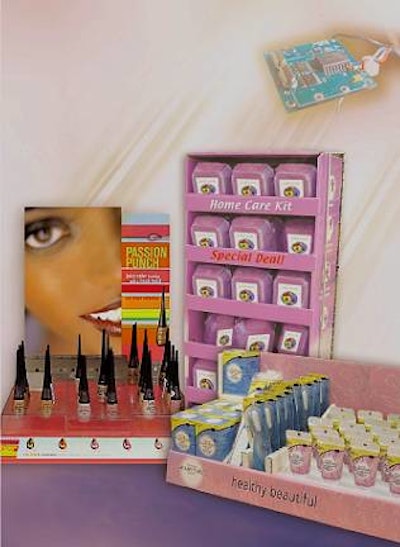 There's more utility to radio-frequency identification for consumer packaged-goods manufacturers than case or item-level track and tracing. There's also display-level RFID, which helps CPG manufacturers and retailers extract valuable data from in-store promotional displays.
The patent-pending RFID technology from Goliath Solutions Inc. has been used in stores for about two years, helping consumer packaged-goods companies—and retailers—sell more product.
GSI provides RFID-enabled point-of-purchase display units using tags that work in conjunction with GSI's RFID readers. The patented RFID tags and readers are manufactured to GSI's specifications.
A semipassive, battery-powered RFID tag is affixed discreetly to the back or underside of the display. In combination with unltra-high frequency readers mounted in store ceilings or around fixtures, the system enables automatic verification of display presence and location within the store. The UHF readers have a range of about 120 ft. Several times a day that data is relayed via phone, Internet, or paging service to Goliath's central server, from which it is available over the Internet to Goliath's subscribers.
The system automates a process—if it was done at all--that otherwise requires store clerks or outside audit firms to monitor the in-store displays, according to GSI chief executive officer Bob Michelson. He knows of one auditing firm that sent out 4ꯠ people once a week to capture data that his system could do automatically, consistently, and accurately.
Data specifics
Michelson says the data answers three kinds of execution questions:
1. Is the display in the store?
2. When was it set up and when was it taken down? (This may be multiple times with one display)
3. What's the approximate display location within the store?
Combining that information with point-of-sale data that CPG companies obtain from retailers provides actionable information, Michelson says. "This is all about information going from anecdotal to analytical—and it's available daily. It helps companies maximize their sales per square foot. There is not a CPG marketer that doesn't do somersaults when they realize that. They've not before had analytic data of much validity before this."
Analysis and interpretation
"Then we take it to the next level," continues Michelson. "In one case, the displays in the front of the store had a 60 percent sales lift, and the displays in the back of the store had a 20 percent lift. Companies can phase out the ones that don't work and increase the number that do."
He says results can be counterintuitive. "A company puts a display in the spice section, but later discovers that if it's located in the produce section, consumers react better to the idea of putting the product on their salad." From the data, the company may find that in stores that cater to Hispanic shoppers the display may be placed in one location, but the company may place it elsewhere in a store in a different region of their country.
CPG companies do not have equipment expenditures, Michelson emphasizes; instead, they become subscribers and pay for each display they want tracked.
Installations and status
Although Michelson considers the identity of any stores or companies proprietary, he says that the system has been installed at more than 50 retail stores in the United States. More than a half-dozen top-tier CPG companies are subscribers, he says. GSI's initial focus has been in three channels: chain drug, grocery, and convenience stores.
For example, a current drug store install involves an average of eight readers per store and is typically picking up four to six RFID-enabled displays. To date, his company has tracked 250 promotions over the last two years, he adds. Departments at CPG companies that use the data include marketing, sales, and purchasing.
As the technology improves, so will the economics of the system, Michelson says. "What is most exciting is that return on investment appears to be immediately achievable relative to other kinds of RFID applications."
Companies in this article