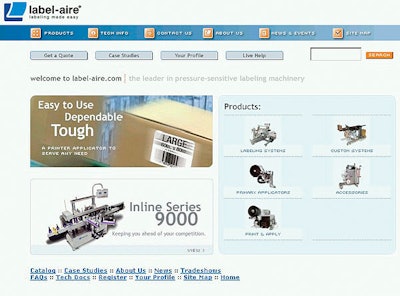 Label-Aire's redesigned Web site (www.label-aire.com) now includes a "Live Help" feature that allows registered users to contact an employee during normal business hours with questions concerning their labeling equipment. Visitors can also secure an online quote through an authorized distributor by filling out the online quote request form.
Site visitors also have access to Label-Aire's complete line of pressure-labeling equipment, including pressure-sensitive primary applicators, printer applicators, labeling systems, custom systems, and accessories. The site also educates visitors on the different p-s labeling technologies such as air-blow, wipe-on, and more. Flash technology allows visitors to visualize each method step-by-step.
Label-Aire.com is also equipped with an advanced search engine, enabling visitors to find information faster and easier. A video library shows the company's equipment in action through the use of video streaming technology.
This interactive site also includes a literature request form that allows users to receive sales and data sheets, technical information, and product video CDs on request. A unit conversion calculator and label orientation chart help make specifying labeling equipment even easier for potential customers.
Companies in this article