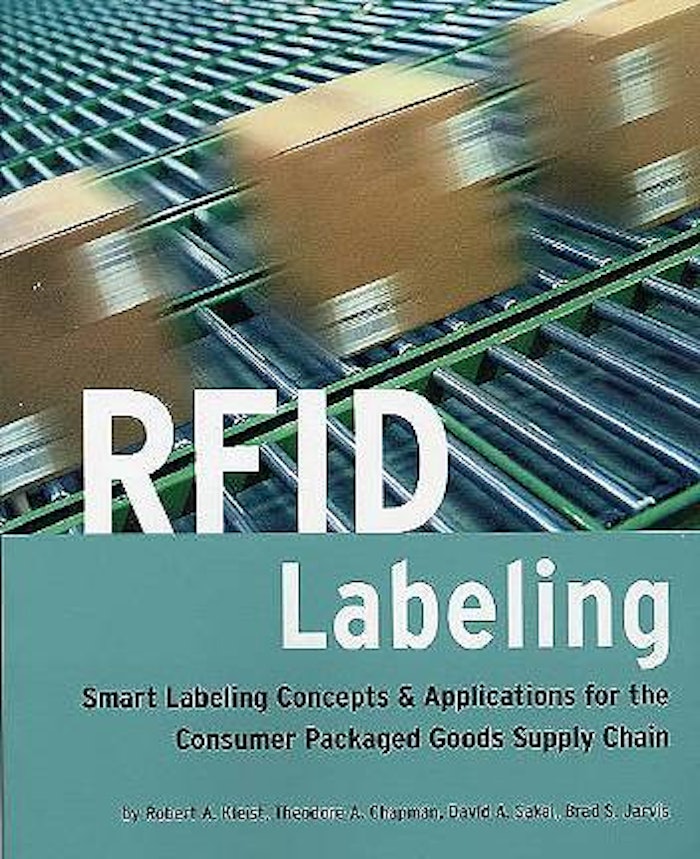 The new RFID Labeling: Smart Labeling Concepts & Applications for the Consumer Packaged Goods Supply Chain, just published in August, gives readers a firm grasp of this timely topic. The 211 black-and-white pages, written by four Printronix staffers headed by company founder Robert Kleist, serve as a welcomed primer on smart labels and radio-frequency identification.
It extracts and organizes information from the equivalent of what would otherwise be 10 to 20 RFID white papers. I like the book's size and feel, and even the typeface is user friendly--Printronix didn't try to cram too much information or shrink down the font size. There's plenty of room for notes along the margins, a nice touch for what is a softbound handbook.
Another major plus is that the largely packaging-centric approach remains true to the title; you won't be distracted by RFID applications outside the packaging world such as for airline baggage or library books.
Near the front is a helpful 10-page glossary that defines terms from Absorption to XML, and other acronyms are well defined throughout. The nine chapters include "RFID Basics," "From UPC to EPC," "Smart Labeling Approaches," and "Industry Initiatives." Although it would be nice to read more about Wal-Mart's program, RFID isn't all about Wal-Mart.
Convenient sourcing and good charts
Listing sources and further references the end of each chapter rather than together toward the book's end is a convenient choice. Along the way, RFID Labeling offers a generous helping of appealing charts, illustrations, and diagrams that strike a good balance between too much and too little detail.
Printronix has left the blatantly commercial aspect to the end; the final chapter, though not labeled as such, is a 28-page brochure for the company's RFID products and services.
A little more editing to correct a few minor mistakes such as typos and misspellings would have been beneficial, but maybe that's forgivable for a get-it-published-fast first edition like this. Such editorial quibbles will likely go unnoticed by most, and they certainly do not detract from the authority and scope of the material. This handbook should prove an indispensable resource for all but the most seasoned RFID experts.
However self-serving some may view this volume, Printronix's effort in assembling and producing such a volume should be commended. It is useful, helpful, and will likely prove an invaluable asset for many who have either been pushed into or are testing RFID in packaging. As a crash course in RFID, it will bring anyone who reads it quickly up to speed--the $29.95 plus postage cost will be well spent. Printronix will be providing it free at trade shows where the company exhibits, including the upcoming Pack Expo in Chicago at booth E-9638. It can serve as a foundation from which to ask questions internally and externally for your company's RFID efforts.
A cover blurb attests, "With this book, Printronix provides keen insight." I suspect that you'll want to keep RFID Labeling in sight and handy, too.
RFID Labeling
Author: Printronix
SPECS
Pages: 211
Size: 7 1/4''x9''x1/2''
Softbound
Price: $29.95
Published: August 2004
Pluses: Clear and packaging-centric.
Minuses: Better copy editing?
Bottom line: Keep it handy.
Companies in this article