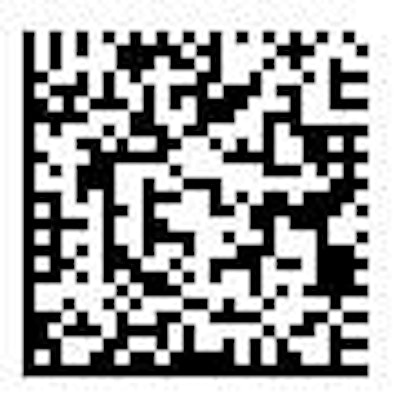 Secure Symbology, Inc., offers a near-term solution to companies pursuing opportunities in radio-frequency identification that it calls the Electronic Sequence™ Code™ System. The ESC™ System is explained in a summary white paper published in July, An Alternative to the RFID Mandate that's available at www.securesymbology.com. The paper summarizes the history of the bar code and of RFID, which is described as a "work in progress."
In short, it explains the use of existing bar code technology to encode and print all necessary information, such as: lot number, expiry or best by date, allergen alerts, and unique serial (sequential or random) number and more. This information can be printed by an in-line ink-jet, laser, or thermal transfer printer.
Secure Symbology president Ron Barenburg says any printer capable of serializing bar codes will work and allow track-and-trace capabilities throughout the supply chain. "And it doesn't slow down the production line to do that," Barenburg points out.
Barenburg says this method "is today's technology, not tomorrow's. It can be used now, and can be used as a bridge to eventual use of RFID. Down the road it can be used on a label as a backup to RFID."
Internet accessibility
The track-and-trace system's database is accessible via the Internet to authorized production personnel, as well as a retailer or a pharmacist.
"The ESC System provides what the FDA calls an 'electronic pedigree' of that unit to help verify that it's not counterfeit," says Barenburg. "While Wal-Mart is mandating [RFID] only at the pallet level going into distribution warehouses, this is applicable for unit packages, whether that be an ampoule, a vial, bottle of Advil, or a box of corn flakes."
For additional information about RSS (Reduced Space Symbology) and pharmaceuticals, see Bar-code barriers, published in June 2004 at Packworld.com.