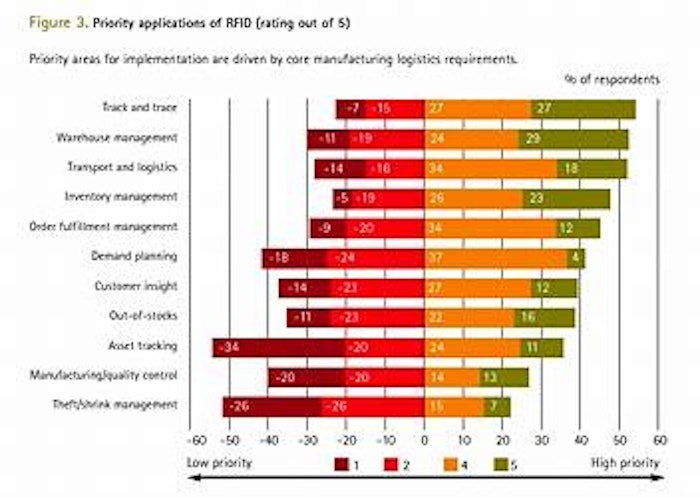 In April 2004, Accenture launched a survey of manufacturing executives across a range of companies--with the bulk coming from consumer goods and pharmaceuticals--to determine how prevalent radio-frequency identification/electronic product code compliance mandates are today. It was also to gauge manufacturers' views on how and where it will deliver the greatest payoffs.
RFID/EPC promises to transform the value chain--allowing seamless communications from suppliers to the end consumer. When that occurs, Accenture believes manufacturers can realize step changes in business performance by creating new and innovative business models.
Survey findings, however, indicate that though the inevitability of RFID/EPC is fully appreciated by manufacturers, benefits remain unclear.
Key findings
More than half of U.S. respondents are currently under mandate to implement RFID/EPC; of Europeans, only 22% are under mandate today. But 58% of all manufacturers surveyed are working on some stage of an RFID/EPC business case.
Although one-third of companies expect the return on investment from RFID/EPC to be high, the benefits remain unclear to two-thirds of study participants.
Whether uncertain or convinced of high returns--nearly all participants appeared to agree on one point: The benefits delivered through RFID/EPC go beyond the four walls of individual organizations.

Focus on the Short Term

Many of the survey participants are focused on the short-term benefits of RFID/EPC. The top-rated benefits are ones that speak directly to current retailer demands. These include the following:
Improved lot track and trace (58%)
Improved recall management (51%)
Better shipping and receiving (47%)

About the Survey: Available as a PDF download, the study involved RFID/EPC decision makers from major manufacturers in the United States and Europe, particularly the United Kingdom, Germany, and France. A total of 80 companies were interviewed by telephone in April 2004.
Companies in this article