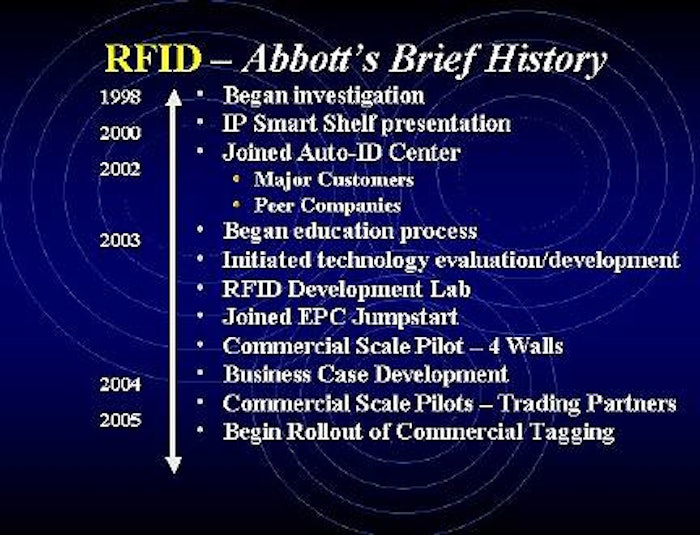 Wallace spoke June 8 during a Web seminar entitled "RFID: A Packager's Experience," which was cosponsored by the Institute of Packaging Professionals and Packaging World magazine.
Abbott began its RFID trek in 1998 when it investigated an alternative to Electronic Article Surveillance. Two years later, the company joined MIT's Auto-ID Center, whose members included its biggest customers—Wal-Mart, CVS, and Target—as well as competitors like Unilever.
"We were very interested in finding out what everyone else knew about RFID, but we didn't understand yet," says Wallace. "We found that there were quite a few benefits or potential benefits of RFID."
The company is currently conducting three pilot studies that were launched in late 2003, two in pharmaceutical, and one in nutritional products. These involve a limited number of items, according to Wallace. RFID systems that it confirms do work will be moved from the pilot line to the plant. In 2005, the company expects to begin initial roll-out of commercially tagged products.
Abbott uses tags and readers from Matrics, and worked with its corrugated supplier so that empty cases arrive pretagged with an RFID label. While he couldn't provide specifics, Wallace said that "most major corrugated suppliers are looking at [RFID] very seriously."
"There's way too much technology involved to do this alone," Wallace advises. He suggests calling on consultants as well as solutions providers that handle hardware, software, and integration.
"Take RFID out of the lab and into the plant, and check RF issues and evaluate tag and reader performance," he says.
A major challenge for Abbott was making RFID work with the company's current IT systems that have "grown organically" over the years. "That's not an easy chore," he says.
Wallace identifies Five Steps to RFID: Study, Test, Try, Scale, and Implement. He refers to the latter as "the end game. This is where the value is."
Meanwhile, Wallace suggests companies investigate RFID via publications, conferences, and visiting Web sites such as www.epcglobalinc.org.
A copy of the CD that includes audio and visuals is available for $95 for IoPP members and $125 for nonmembers by calling 630/544-5050 or visit www.iopp.org/store and search by keyword "RFIDPE" at the site.
Companies in this article