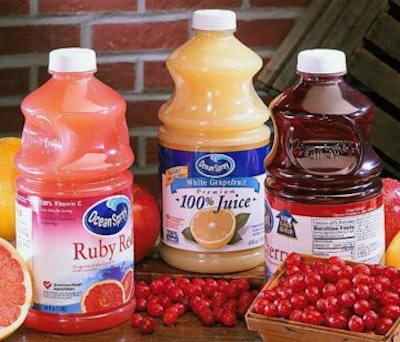 The custom-molded bottle, supplied by Graham Packaging (York, PA), features deep dimples, one on each side of the bell of the bottle, that are molded in the shape of the Ocean Spray wave logo. The company name is displayed in raised letters inside each wave.
"The waves provide a secure hold for the thumb and fingers, and the raised letters actually function as an antislip enhancement," says Raymond Bourque, Ocean Spray director of packaging and processing technology. "It's easy to pick up, carry, open and pour." According to Bourque, the design was based on extensive consumer research with both adults and children.
Ralph Coley, Ocean Spray senior manager of packaging and bottling technology notes that the footprint of the new bottle is close to that of the bottle Ocean Spray has used for the past 15 years. "We're able to use our existing filling and labeling equipment, although we did have to make modifications for label registrations," he says.
Ocean Spray has applied for a design patent on the new bottle, which is jointly produced by Ocean Spray and Graham Packaging. The bottle is manufactured at a Graham plant in Bordentown, NJ, that is located on-site at an Ocean Spray processing and bottling plant.
Companies in this article