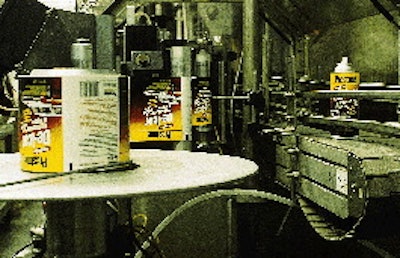 Supplied by CMS Gilbreth Packaging Systems (Croydon, PA), the labels are glue-applied to "blank" cans.
"The wraparound labels are used in an emergency," says Stan Strusky, corporate production planning manager at Prestone. "To get the litho cans you need a six- to eight-week lead." Strusky said filling an emergency order is important to their customers. "The last thing we want to do is be on back-order with Wal-Mart or Kmart in a situation like that."
The labels are 1.4-mil white opaque PP that's adhesive laminated to a 0.75-mil clear OPP outer layer. CMS reverse-prints the clear OPP in five colors by rotogravure. Roll-fed labels are applied to the can by contract packager Accra Pac (Elkhart, IN) using a Trine Labelling Systems (Turlock, CA) Quick Change 4500 wraparound labeling machine. For necked-in cans, Accra Pac uses a shrinkable OPP label that travels through a CMS Gilbreth double inverted heat-tunnel system. The heat tunnel directs radiant heat through air knives to both the top and bottom of the can, causing the label to shrink slightly and conform to the neck.
Companies in this article