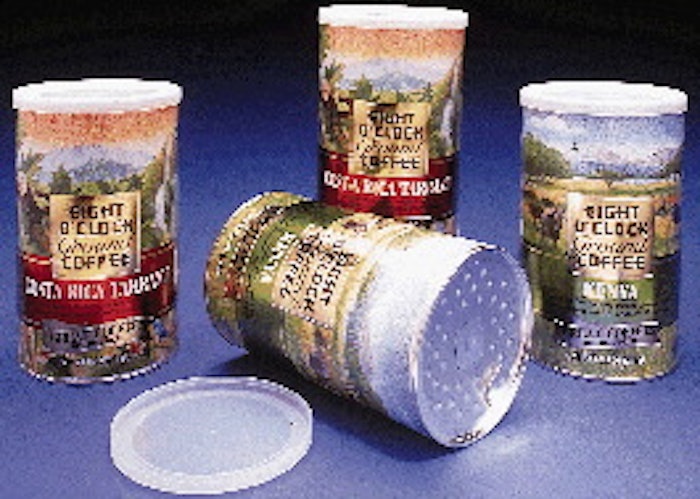 These gourmet coffees have been available in convenience stores in a whole-bean, 12-oz, flexible package format for about a year. Now the firm wants to see how a ground-coffee format will do in a supermarket setting; the 8.5-oz packs sell for about $4.80.
Sonoco (Hartsville, SC) supplies the canister with steel bottom seamed on. Eight O'Clock fills the canister at its Landover, MD, plant and seams on the top, a steel ring with a foil/DuPont surlyn® membrane heat-sealed to it. Installed on a rental basis, the packaging equipment was supplied in a six-week time frame by Frain Industries (Addison, IL), a used equipment supplier/refurbisher and line integrator. Consumers peel back the membrane to open the container and then use a friction-fit overcap made of high-density polyethylene to reclose the container.
In making this canister top, Sonoco punches a few tiny slits in the foil membrane. Then it uses a pressure-sensitive labeler to apply a Plitek (Des Plaines, IL) valve. The valve lets CO2 escape but does not allow oxygen in. That means the coffee can be packaged shortly after roasting for freshness and better flavor. Freshly roasted coffee can't be packaged in metal cans because CO2 given off by the coffee would burst the seams. The coffee is first allowed to gas off for about 12 hours.
"The valve allows us to immediately pack freshly roasted and ground coffee without waiting for the coffee to gas off," says Dick Prusha, director of marketing for Eight O'Clock. A different but comparable valve is used for the firm's 12-oz flexible pouches for whole-bean coffee sold in convenience stores. But marketers at Eight O'Clock felt the Sonoco canister was more appropriate than a pouch for the very different supermarket setting, and the Plitek valve is the one Sonoco has most experience with for can ends.
Bright, appealing labels are applied by Eight O'Clock in the Landover plant. Supplied by Mail-Well (Denver, CO), the labels are 45-lb metallized paper printed offset in six colors plus UV coating for gloss. Though only two coffee varieties are involved in the current six- month test, labels for six other varieties are already printed. That's how confident Eight O'Clock is about its new item for the supermarket trade.
Companies in this article