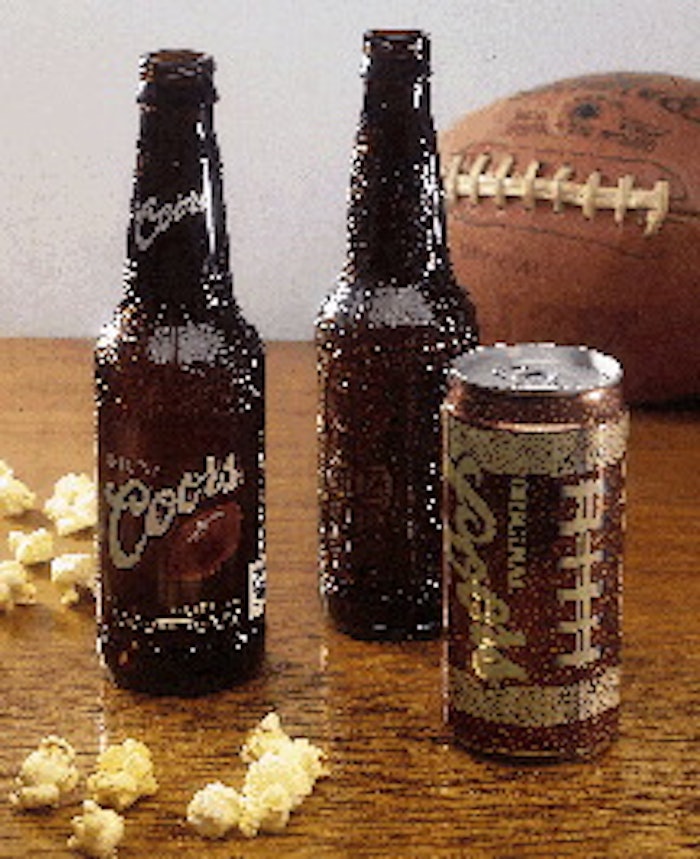 Pigskin graphics also adorn 12-, 16- and 24-oz cans, but it's the 12-oz NR amber glass bottle that's especially striking. The nationwide sale ran for four weeks.
Longneck bottles for both Coors Light and Original Coors brands were produced at the Atlanta plant of Owens-Brockway (Toledo, OH), via the narrow-neck press and blow method. Coors applied clear body and neck labels that complement the bottles, showing a football on the main label. The 2-mil biaxially oriented polypropylene pressure-sensitive labels were from Spear (Mason, OH). They were printed in four colors via a rotary letterpress. That differed from the applied ceramic labeling decoration Coors used for a special-edition baseball bat-shaped bottle it launched in March '96 (see Packaging World, May '96, p. 8).
Sold only in cases of 24, the crowned Pigskin bottles went primarily to on-premise accounts. Dave Taylor, corporate communications manager, says the 12-oz bottles were sold at the same price points as standard bottle offerings. The company wouldn't reveal volumes.
According to a press release introducing the special package, "The bottles' pressure-sensitive labels provide laser-sharp graphics that appear as if they were painted on the bottles." Coors' Patrick Edson, marketing director, packaging innovation, says, "the new football bottles and cans are going to amaze customers."
Companies in this article