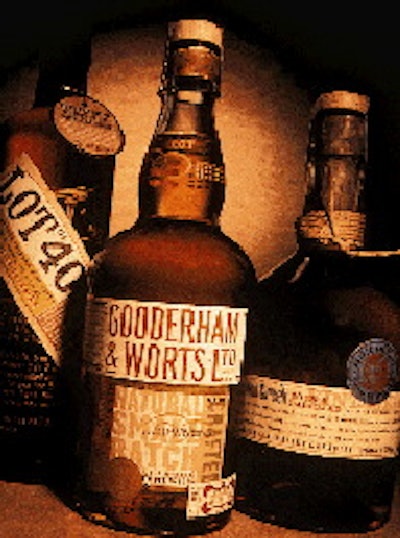 Aimed at upscale consumers, the 750-mL glass bottles retail for around C$36, a good C$10 higher than traditional premium whiskeys, according to Raymond Jolicoeur, marketing director. Package and label design was executed by Russell Inc. (Toronto, Ontario, Canada).
Though made from stock molds, the clear glass bottles were sourced from European suppliers through Demptos Glass (Louisville, KY), which also coordinated the applied-ceramic labeling, used to different effect on each bottle. For example, the Lot 40 brand (left) shows an ACL-decorated diagram reminiscent of a blueprint for building a distilling plant. But the Pike Creek bottle to its right features the brand name ACL-applied but with a clear, matte coating instead of a color, giving the appearance of etched glass.
A mixture of glue-applied litho-printed labels and flexo-printed pressure-sensitive labels are used for each bottle. Labels are printed in two passes in up to 10 colors, plus varnish and some embossing, by Cameo Crafts (Montreal, Quebec, Canada). Unique on the Lot 40 bottle is the angled positioning of the label. That was tricky, says Jolicoeur, requiring modifications and special parts for an existing labeler. "We're pushing our machines to the max," says Jolicoeur.
Several unique touches are added to give the bottles personality, including differing styles of cork tops, a copper wire neck tag on Lot 40, a uniquely numbered lot and bottle label on the Gooderham & Worts bottle, and hand-made paper from Nepal that's glued around the neck of Pike Creek. "The package is very labor-intensive," admits Jolicoeur. "But these are breakthrough entries going after a much different target than the traditional whiskey drinker," he tells PW.
Though not yet available in the U.S., the packages are in the midst of a roll-out across Canada.
Companies in this article