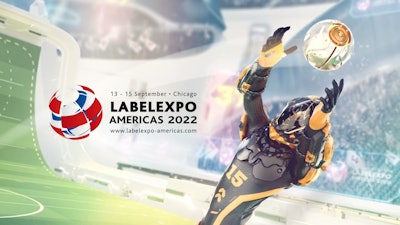 Emphasizing the key theme of the "digital transformation of the labels industry," Labelexpo Americas 2022, held Sept. 13 to 15 in Rosemont, Ill., came roaring back after a four-year COVID-related hiatus, displaying an overwhelming array of digital printing and embellishment technologies, many of them developed since the last Labelexpo show in Europe in 2019. In fact, the show was so heavily tilted toward digital, one exhibitor remarked that there was not a single conventional flexographic press to be seen anywhere on the show floor.
In the lead-up to the event, Andy Thomas-Emans, strategic director of the show's producer, Tarsus Group, remarked, "Labelexpo Americas 2022 is shaping up to be one of the most important milestones in the transition of the labels industry from analog to digital printing. The digital technology on display not only challenges basic four-color flexo, but could also replace the legacy press equipment that probably makes up 50% of the installed narrow-web base."
Added Labelexpo Americas 2022 Show Director Tasha Ventimiglia, "The sheer number of global digital press launches at Labelexpo Americas 2022 demonstrates the importance of this show—the first time label converters have had the chance to see this exciting new machinery up close and in action for three years."
More than 1,350 attendees from 77 countries visited the show, which included a Digital Embellishment trail with live demonstrations of digital embellishment technologies; a two-day conference; master classes on digital embellishment and self-adhesive label materials; the Eco Stage, where presentations on sustainability were offered; and 400 exhibitors.
Among the array of new digital presses unveiled at the event were the following:
Anytron Any-Jet III
The Any-Jet III from Anytron is an integrated digital system for digital printing, laminating, cutting, slitting, and matrix removal. According to the company, the unit can be used to print more-customized short-run labels and seamlessly finish them in an automated, single-pass process.
The Any-Jet III can be set up in five minutes and includes an auto job changeover function as well as the company's Any-Flow intelligent workflow software. Says Anytron, the Any-Flow solution allows the operator to control everything from printing to finishing with "just one click." The software includes RIP technology with functions such as variable data printing (VDP) and a Color Management System (CMS).
---
---
The Any-Jet III is engineered for flexible packaging, including printing on flexible packaging film, lamination, scribing, perforation and marking by laser, and slitting and rewinding. Among the applications suited for the system are health and beauty, natural and organics, coffee drip bags, pet food, snacks, supplements, and liquids.
The system can also be used to produce labels, including printing on label media, half-cut, full-cut, perforation, and marking, and slitting and rewinding.
The Any-Jet III can handle materials with a maximum width of 14 in. (350 mm), with a printing area of 13 in. (324 mm). The print engine uses pigmented, aqueous inkjet technology, printing at a resolution of 1,600 dpi in CMYK. The maximum speed of the Any-Jet III is 148 ft/min (45 m/min).
Dantex Group Pico 1200 range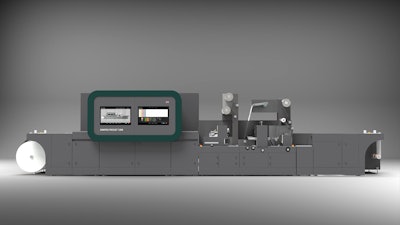 At the Dantex Group booth, the digital label press manufacturer launched its next generation of Pico UV inkjet digital presses, with four different modular print platforms from entry-level to full-hybrid, eight-color, and high-speed models. In development for the last two years, the range includes the PicoColour HD 1200, the PicoJet 1200, the PicoJet 1200i, and the flagship high-speed model, the PicoJet 1200S. Each press is based on a modular design incorporating in-line finishing and a new touchscreen operating system.

---
---
Included as standard is the company's SuperWhite technology, which is capable of producing a white ink opacity up to 92% in a single pass. According to Dantex, this makes SuperWhite the highest-opacity inkjet white available on the market. Also standard is DecoTactile, a technology that creates a wide range of textured embellishments to enhance detail and add vibrancy to print. The presses also offer three new additional color options—orange, violet, and green—that extend the color gamut to more than 96% of Pantone colors at a Delta E of 3 and below.

The systems use Ricoh's next generation print heads, for an effective resolution of 1,200 dpi (all models) at speeds from 165 ft/min (50 m/min) to 246 ft/min (75 m/min) for the PicoJet 1200S.

Domino N730i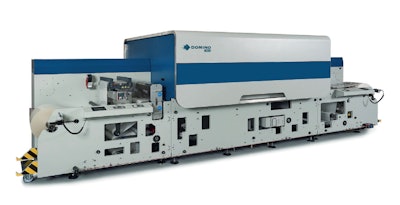 New from Domino is the N730i seven-color, 1,200-dpi digital label press for applications that include pressure-sensitive and shrink sleeve-labels. The system is built on Domino's latest Generation 7 inkjet technology platform and is equipped with a Brother Bitstar print head, said to deliver consistent ink density across the image. The N730i is engineered to print at speeds to 230 ft/min (70 m/min) across all colors, including white, without any reduction in opacity.
The N730i features Domino's enhanced i-Tech intelligent technology. This includes i-Tech CleanCap2 automated maintenance, the new i-Tech SetAlign, which is said to provide consistent print density and registration, i-Tech ActiFlow for optimum ink-jetting reliability, and i-Tech NozzleAdjust, which Domino says enables exceptional print quality.
---
---
According to Domino, the press is easy to use and configure through the company's new intuitive SunLight Graphical User Interface (GUI). It uses the industry-standard Esko Digital Front End and JDF/JMF support and is Cloud-ready for a streamlined workflow.
The Domino UV91 ink set is said to provide excellent resistance to heat, cold, sunlight, and chemical and saline attack as well as abrasion. The high-opacity white is often used as a replacement for silk screen printing.
Durst Tau RSCi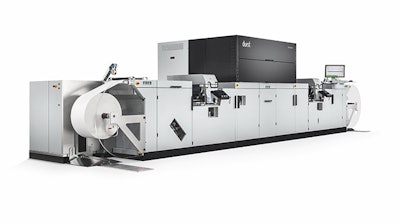 For the first time, at Labelexpo Americas 2022, Durst exhibited its Tau RSCi digital press printing at a 1,200-dpi resolution at 328 ft/min (100 m/min) on a 20-in. web in four colors, with flexo units both before and after the digital engine.
Designed to take over mid-to long-run jobs, along with the capability to produce short-run jobs economically, the Durst Tau RSCi is driven by a Dimatix Samba G3L print head. The system is available in printing widths of 10 in. (330 mm), 14 in. (420 mm), or 17 in. (510 mm) and can now be equipped with the new double white feature, which Durst says increases the productivity of the press when printing with white ink at highest opacity to 262 ft/min (80 m/min).

For the beauty and personal care market, the press can print nine colors: CMYK + orange + violet + dual white.
During the show, the Tau RSCi was printing live on sensitive shrink-sleeve material as well as demonstrating its capability to print In-Mold Labels.
Epson SurePress L-6534VW
Among the range of new products for digital label printing launched by Epson at the show was the new SurePress L-6534VW UV inkjet digital label press. The system is said to be able to reliably produce up to 2 million sq ft/month using the company's PrecisionCore linehead web-feeding technology and its own LED UV ink.
---
---
The press comes standard with white ink and either digital varnish or orange ink, a corona treater, a web cleaner, an ionizer, an eye mark sensor, and an additional UV lamp. A digital hybrid in-line interface is also available, which includes an inspection camera and finisher after the press and a large roll or coater before the press. The printer achieves up to 92% of the full Pantone range, when orange ink is added.
The SurePress L-6534VW offers a maximum print resolution of 600 x 1,200 dpi and handles substrates from 3 in. (80 mm) to 14 in. (340-mm) wide. In productivity mode, the press can print at 164 ft/min (50 m/min); in standard mode, 90 ft/min (30 m/min); and in variable data speed, 164 ft/min (50 m/min).
Heidelberg Gallus One

Heidelberg was eager to introduce its first fully digital label press, the Gallus One, from Swiss subsidiary Gallus Group. Says the company, marking a new addition to its conventional and hybrid portfolio of label presses, the Gallus One has been specifically designed to remove the TCO barrier for the adoption of reel-to-reel digital labels with automation and cloud-based technologies.
Built on the Gallus Labelmaster press platform, the roll-to-roll UV inkjet digital in-line labels press is equipped with Dimatix print heads and offers a 13-in. (340-mm) width, a resolution of 1,200 dpi, and a print speed to 230 ft/min (70 m/min). The press can print in five colors: CMYK + white.
---
---
To meet the growing use of cloud technologies, the Gallus One has built-in cloud capabilities that not only allows the user to perform remote set up, but also enables transparent performance monitoring and standardization across a business's press portfolio and manufacturing sites.
The Gallus One ecosystem includes inkjet technology, a new Gallus One ink set, Prinect cloud-based workflow software, and a new predictive press monitoring service to ensure minimum press downtime.
HP Indigo V12

Designed to go head-to-head with flexo, the new HP Indigo V12 narrow-web digital press is said by the company to have superior print quality and greater productivity; in fact, the company says one V12 can cover the same work as two or three flexo presses.
The V12 is equipped with 12 on-press ink stations, eliminating the need for ink changeovers, and uses HP's liquid electrophotography (LEP) technology to deliver it to substrate. The press can run at speeds to 394 ft/min (120 m/min) in six colors and supports what the company says is the digital label industry's largest range of substrates, from 12 microns unsupported film to 450-micron (18-pt) board, using the integrated in-line primer. The web width of the V12 ranges from 7.87 in. (200 mm) to 13.39 in. (340 mm).
---
---
The first in a new line of digital presses, the Series 6 HP Indigo, the V12 uses the company's new LEPX technology, which HP Indigo says has been engineered to "reinvent digital efficiency and drive an earning power comparable to multiple flexos." In LEPX architecture, six imaging engines operate in-line simultaneously, instead of HP Indigo's LEP single engine, multiplying speed to match analog with the added benefits of digital printing. "As a result, LEPX offers the speed and efficiency for PSPs [print service providers] to profitably produce large print volumes than previously possible," the company explains.
The HP Indigo V12 will be available in late 2023.
Konica Minolta AccurioLabel 400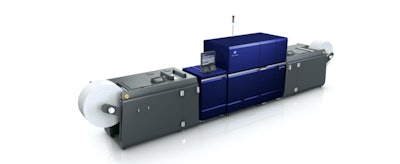 At its booth, Konica Minolta unveiled its AccurioLabel 400 five-color label press for the first time in the U.S. Says the company, while the AccurioLine of digital presses was initially designed to offer an affordable entry point into high-quality digital printing for small-to-mid sized label converters, they are now widely accepted by large-sized businesses as well.
Available in spring of 2023, the AccurioLabel 400 incorporates all of the company's press technology, including the Intelligent Quality Optimizer (IQ-520) color management functionality, which enables real-time control of white toner opacity and color stability control, as well as automatic calibration, density adjustments, and profile creation.
---
---
The 3,600 x 2,400-dpi AccurioLabel 400 single-pass toner production press prints on substrate widths from 10 in. (244 mm) to 13 in. (330 mm) and features a number of new developments, including the a fifth well for white toner to expand applications and a print speed of 131 ft/min (39.9 m/min). According to the company, multiple touch-panel monitors in three different areas of the label press enable intuitive operation, eliminating the need for extensive user training.
Mark Andy Digital Pro MAX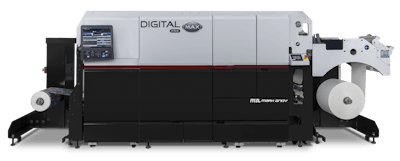 Presented for the first time at a global exhibition was Mark Andy's newest toner-based solution: the Digital Pro MAX (Dpro MAX). According to the company, the hybrid digital press is the result of its long-term experience in digital and feedback from users of its Digital Pro model. The press offers a speed up to 131 ft/min (40 m/min) and is a fully upgradable machine.
"The converter can start with a roll-to-roll version and then—as the need grows to include flexo spot-color printing—can add up to three flexo stations in any combination before or after the digital engine," explains Mark Andy.
If in-line embellishment is needed, cold foil and lamination stations can be added at any time. If there are customers who need printing on the back of the liner, the press can be equipped with a turn bar at any time as well as upgraded with Mark Andy's semi-rotary vertical die-cut unit. Adding white toner enables the application of transparent and metallized substrates without the need for a flexo station. Moreover, printers can start with the Mark Andy Digital Pro3 and move up to the Digital Pro MAX as their needs expand.
Companies in this article
Videos from Brother USA Machinery