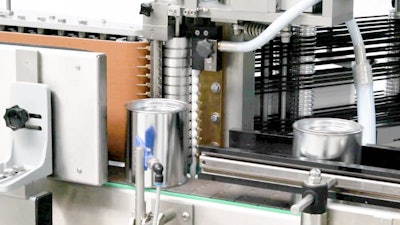 Langguth
Due to economy, high recyclability, and wide use on glass and plastic containers, wet glue paper labeling holds a vast presence in packaging systems for the foods, beverages, chemicals, and paints markets, among others, where its versatility and graphic quality makes it dependable for presenting and promoting their products.
Usually, the application of this type of labels is performed by spreading striped layers of glue onto precut paper labels, a technic widely adopted and extensively used by a large variety of machinery, due to the flexibility it provides in partial or wrap-around labeling.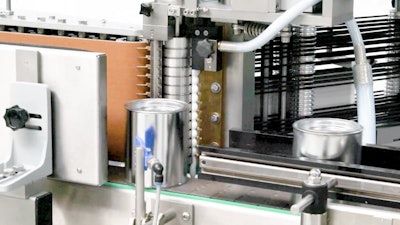 In Germany, Langguth has taken a step forward in this process, by designing and implementing their innovative GLU|ECO® system, which the manufacturer promoted during Andina Pack 2021, in Bogota. Since its launch eight months ago, already eight systems have been installed at different European plants, and the technology is actively being promoted throughout North and Latin America.
Optimal glue use
The benefits that this Langguth new process brings to wet glue pre-cut labeling is multifaceted, and one of its main contributions is the substantial reduction in the consumption of adhesive the GLU|ECO® system provides. This company has created a particularly innovative concept that optimizes glue consumption and ensures complete adhesion of labels to containers. "Through our technology, adjustments can be made to remove excess glue from the roller in a preset frequency, obtaining a much thinner and uniform layer of glue on the labels." This efficiency is reflected in up to 50% savings in glue consumption when compared to conventional methods, and favorably impacts factors such as ROI and cost of ownership, Juan Hernández, sales manager for the southern United States and Latin America at Langguth, explains.
In conventional systems, the cycle of glue transit follows a pattern in which glue is pumped from a container onto the roller and excess material continuously recirculates through the system during production time. Exposure to air can deteriorate the glue's adhesive properties and lead to its degradation. "What we have changed in this new system is having the glue pumped from the bucket into a new deposit and from there only the required quantities are pumped onto the roller; only when the container reaches its minimum levels, fresh glue from the bucket is automatically pumped again into it. This minimizes the amount of recirculating glue."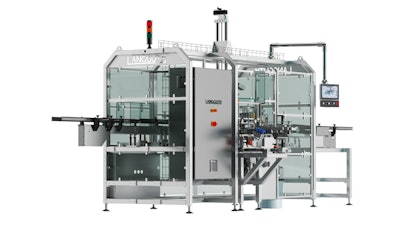 Sustainability and more efficient cleanability
The GLU|ECO® labeling system patented by Langguth offers users the capacity to perform a clean-in-place process by the simple push of a button which frees operators from this task and lets them invest their time in other activities. In conventional systems, cleaning and washing processes demand extra work after regular shift hours or unwanted stoppages. At this new development, a simple bucket can be placed into the machine to soak the whole gluing unit overnight, leaving it ready to seamlessly restart production the next day. In addition to time savings and efficiency gains in cleanability, the system avoids potentially damaging parts by eliminating their manipulation and reinstallation.
Also, on top of the agility the cleaning process gains in the GLU|ECO® system, there is the versatility and speed it allows when it comes to label format changes, due in great part to the dwindling number of parts and that no tools are required by these operations. Both cleaning and format change processes can be comfortably managed through an HMI display.
The glue used by the GLU|ECO® unit is environmentally friendly and recyclable, given that labels glued with it can easily be removed in bottle washing equipment, a property that sets it apart from other methods used for different type of packaging. "In terms of the recycling of PET bottles, the removal of heat-shrinking labels is certainly cumbersome, and this is where another advantage of wet glue comes in," signals Juan Hernández. As an additional environmental contribution, Langguth highlights the lesser use of compressed air against traditional equipment, which, at the same time, translates into more precise glue quantities and production costs savings.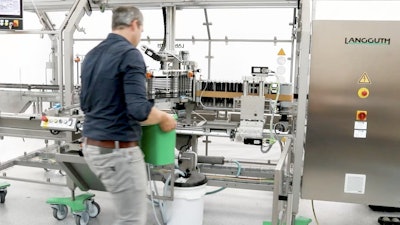 State-of-the-art technological innovations
Quality is warranted for the application of labels on plastic and glass containers by this new Langguth system, thanks to various characteristics integrated into its design.
The new GLU|ECO® wet glue system allows glue-roller height adjustments, so it can be used for a variety of packaging and not leave unglued edges on labels (flagging), bringing not only production cost savings, but also avoiding format changes stoppages.
In the dispensing process, the flow of glue is controlled by a micrometric screw which, besides guaranteeing exact quantities as needed, can interrupt the operation in the absence of glue. Besides, other notable technological innovations include a pressure-adjustable roller, which allows the application of different gauge labels and to use an electric pump instead of the traditional pneumatic pump to have a more precise supply of glue and to completely avoid compressed air.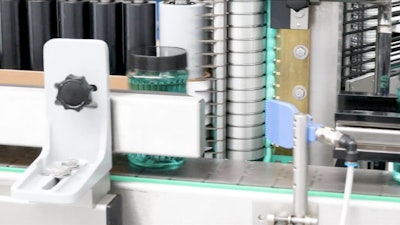 For all its properties and functionalities, the adoption of this new GLU|ECO® system by Langguth looks positive and awakens interesting expectations.
Companies in this article