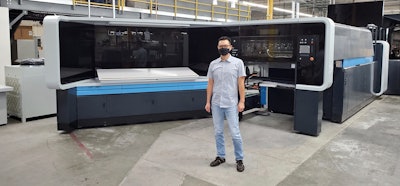 K-1 Packaging Group, a provider of custom packaging solutions for consumer products, has taken delivery of a new Landa S10 Nanographic Printing Press. The Landa S10 is currently being installed at the company's California headquarters in City of Industry, outside of Los Angeles. The S10 will produce short- to medium-run static and variable jobs that consume too much time and material when run on conventional equipment. As a result, K-1 will be able to keep costs down, improve profitability, and give considerably greater flexibility to clients.
Work to be printed on the Landa S10 consists primarily of 5,000 sheets-and-under jobs that make up much of K-1's production schedule. The work includes folding cartons, countertop displays, labels, and litholam corrugated cases.
The S10's ability to produce back-to-back short- to medium-run jobs with minimal makeready time was what most impressed K-1 President Mike Tsai. The press has a rated speed of 6,500 large-format (B1 / 41 in.) sheets per hour.
"The 40 inch press is Landa's domain," Tsai says. "No one is able to run static or variable jobs as quickly. In a manufacturing environment, this means that we will be more productive, and able to give our customers greater flexibility on run quantity and SKU count – an important competitive edge. What's more, the S10's scalability and upward compatibility gives us confidence that we will meet customer demands well into the future."
To see what Bacardi is doing with direct digital print for a special promotion, go here.
The S10's ease in supporting increasingly sophisticated jobs, Tsai says, will permit K-1 to bring its holistic, integrated approach to bear in being a full partner with its clients. One such K-1 job involves processing and printing a client's 1-to-1 variable product codes supporting traceability and other supply chain requirements. "This is part of the future that Landa is helping K-1, and our client, to exist in today," Tsai says.
"We are elated that K-1, one of world's most progressive companies, has made Nanography® central to its production strategy," says Nachum Korman, Vice President and General Manager for Landa Digital Printing in the Americas. "K-1's production team is well known for their work in optimizing every device, tool, and process they use; so we will also be fascinated to see how they leverage the S10's capabilities and explore its full potential."