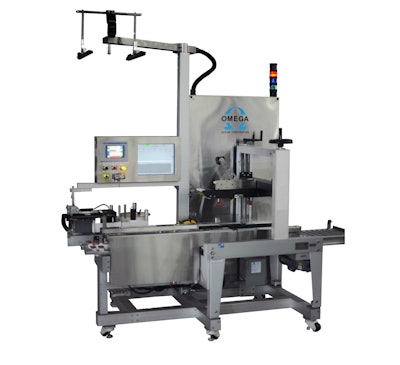 Omega Design Corp. is debuting its Intelli-Pac™ manual case aggregation system, designed to handle serialized cartons or bottles, at PACK EXPO Las Vegas. Configurable for manual to semi-automatic operation, the machine processes loose or bundled bottles and cartons, affording the ability to seamlessly integrate layered aggregation technology.
The Intelli-Pac system incorporates a case label printer and a machine-specific operator touchscreen into existing lines. It also provides connectivity to a customer's preferred data management system, a case-loading table, and a hand-held scanner. An ergonomic design and stainless steel construction further add to the machine's appeal, the company says.
Several upgrades to the Intelli-Pac module are available that further enhance its product tracking capabilities. For example, an add-on called PackSync™ provides unit-to-bundle data synchronization, while PalletSync™ allows for case-to-pallet data synchronization. Other options include a case former, case tapers (both top and bottom), print-and-apply labelers, and casters for increased mobility.
Shared Omega Design President Glenn Siegele, "The Intelli-Pac manual case aggregation system is another example of Omega Design's expertise in the increasingly important serialization sector. As more and more pharmaceutical companies and contract packagers realize their need for enhanced, often unit-level track-and-trace capabilities, a module such as the Intelli-Pac is an attractive option due to its uncomplicated line integration and menu of readily available upgrades."
Companies in this article