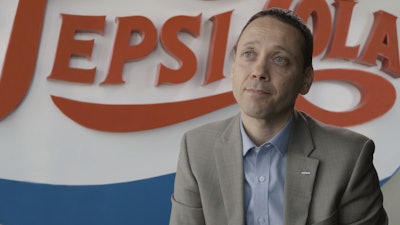 Sabri Kundakcioglu, Vice President of Engineering for Pepsi Bottling Ventures, was among those attending PACK EXPO International 2016 who witnessed the unveiling of Domino's F720i fiber laser coder. Less than two years later, his Raleigh, NC-based firm became one of the first to install this innovative technology.
Its potential impact can hardly be overstated because it opens up an entirely new container category, beverage cans, to laser coding. Previously, cans have nearly always been coded with ink-jet because the CO2 laser wavelength common in the packaging space, while fine for coding paperboard, PET, or plastic film, is not compatible with marking on metals. That's because this wavelength sees the metallic surface like a reflective mirror, and thus it will not create a mark at any speed. A fiber laser, on the other hand, has a different wavelength, one that makes it suitable for marking on aluminum cans at high speeds. It's also capable of marking on steel cans, but the marking process would remove the tin coating, thus exposing the steel to the possibility of rust.
Laser coding is appealing for a number of reasons. But if there's one that stands out it would be the promise of uninterrupted production runs because laser coding requires so much less maintenance compared to ink-jet, where clogged nozzles, routine maintenance and cleaning, ink spills, and refilling of ink reservoirs are all part of the picture. Other "nice-to-haves" that come with laser coding include these:
• codes are permanent
• there's no ink cost
• because no ink is involved, beverage marketers who might want to code the top of the can are able to do so without worrying about the consumer ingesting ink
• codes with 20 characters can be printed at 1,500 cans/min
• concave surfaces are no problem
• IP65 rating makes the equipment perfectly suitable for the humid, sugar-laden beverage environment
• robust design means the system maintains continuous output in temperature-challenging production environments of up to 113 deg F
• consistently high quality eliminates waste and re-work
• with no consumables involved, sustainability points are scored
• promotional and/or consumer engagement programs are made possible when laser imaging of more than 60 permanently readable characters can be done at speeds to 42,000 cans/hr
Unlike conventional fiber lasers, the 3D power concentration of the F720i generates a highly focused beam that is distributed in short intense pulses, resulting in an increase of the marking speed. Its unique design and high-quality optical laser beam enables it to create the finest, most robust characters with greater resistance to vibrations and water condensation, thus limiting downtime and eliminating waste.
Considering the many advantages of fiber laser coders listed above, why haven't they replaced ink-jet coders throughout the beverage can business? A lot of it has to do with cost.Kundakcioglu estimates that it runs along these lines:
• a typical ink-jet coder for a beverage can application costs about $9,000
• a CO2 laser used for a PET bottle application costs about $20,000
• a fiber laser coder is close to $100,000
"With something that capital-intensive, you don't just rush out and buy one without first conducting some rigorous testing with an eye toward understanding the value of the technology," says Kundakcioglu. "Instead of focusing on how much can be saved in ink costs each year, you have to look at the bigger picture. And when you do, there are indeed some advantages to fiber laser, especially if you focus on three things: quality, productivity, and sustainability. You have to look at your overall business results.
"With fiber laser coding you don't have to constantly check that your print heads are functioning optimally. Improved quality and productivity are keys, too. With some customers, if cans we ship them have issues with ink-jet codes we have to take those cans back, manually clean the ink from the bottoms, and run them through the coder again. So the cost of rework has to be factored in. If we can take that out of the equation by moving to fiber laser coding, that's huge. On the other hand, and you can bet we kept a close eye on this during our evaluation phase, we had to be confident that the laser was powerful enough to etch the code but not so powerful as to cause a leak 10 days out into the distribution system."
Kundakcioglu emphasizes, too, that the testing he refers to was gemba, the Japanese word for "in the actual place." In quality management circles based on Japanese concepts, gemba means the manufacturing floor itself and not a lab or a focus group or a survey. The idea is that the best improvement ideas will come only if management practices gemba kaizen, or practical shop floor improvement.
The facility in which the Domino fiber laser coder is operating is the Winston-Salem, NC, plant. Five lines—two PET bottling lines, two canning lines, and one bag-in-box line for fountain drinks--occupy the plant, and the one that got the F720i fiber laser coder is what Kundakcioglu calls the "flexline." The newest canning line in the enterprise, it handles a variety of can sizes from 7.5- to 24-oz. The F720i is located just before filled and lidded cans enter the warmer. "That's where we have the best control over the speed and movement of the cans," says Kundakcioglu.
When asked what his organization typically looks for in terms of payback on capital investment,Kundakcioglu says it's four years. But he readily acknowledges that no such expectations are in place this time around.
"This project is not about the payback," he says. "It's not viewed as a way to save money—or at least that is not the primary goal. This is about those three all-important things I mentioned earlier: quality, productivity, sustainability. This is a long-term strategy for protecting and shoring up the brand. It's about meeting our sustainability goals, improving our efficiency, being on the cutting edge of technology development, investing in promising new methods instead of relying on legacy practices. If you want to stay ahead of everybody else by integrating and adopting new technology, don't expect to pay low price for it.
"With projects like this we know we are at the cutting edge, and we're comfortable with it. Not the bleeding edge, mind you, but the cutting edge. And at the cutting edge you're going to spend money."
PBV is extraordinarily well situated when it comes to making capital investments. As the largest independent bottler of PepsiCo products in North America, it makes a variety of beverages and distributes them on a direct store delivery basis to the states of North Carolina, South Carolina, Virginia, Maryland, and Delaware. Its 16 facilities serve eight million customers.
But it's the firm's ownership structure that really sets it apart. Japan's Suntory owns 65% while PepsiCo owns the other 35%. "It's a venture business, and it's a great model," says Kundakcioglu. "In fact, Suntory and Pepsi are duplicating the model in Vietnam and Thailand. Having these two large owners makes us unique.We're independent, we operate locally, yet we think globally. And at the same time, we can leverage the capital of two global giants to invest in cutting edge technologies.
"Keep in mind, too, that life is not as simple at the plants as it was when used to run 30 SKUs. Today that number is more than 700 and growing. The complexity of our business requires investments in new technologies delivering in the short term and some in the long term. Making a break with the past conventional ways of bottling is absolutely the key to sustainable success."
Kundakcioglu hastens to add that the cutting edge is no place to be without the right people internally and the right partners on the outside. He counts Domino as one of those indispensable outside partners. "Was there some fine-tuning of the new equipment when it first arrived? Of course," says Kundakcioglu. "But it was all handled smoothly enough, and now the plant is perfectly happy with its new can-coding technology."
Condition-based monitoring
Sabri Kundakcioglu says that Domino is not the only trusted technology partner with whom Pepsi Bottling Ventures is working. The firm has also been developing a condition-based preventive maintenance program with Krones, the Germany-based packaging machinery OEM whose equipment is commonly found in PBV's manufacturing facilities. A good example is the recently installed Krones Ergobloc system for blowing, labeling, and filling of 500-mL PET bottles of Aquafina purified water. The Ergobloc's high efficiency and minimized footprint means the entire line is operated by just one person, and it requires up to 40% less energy than alternatives where the three functions of blowing, labeling, and filling are not combined in monobloc fashion.
As for the condition-based monitoring initiative, it will replace the conventional approach where scheduling of maintenance activities was based on the calendar. "Instead of, for example, changing the seal on a valve or checking the bearings at scheduled intervals, we'll be collecting data from an entire line in real time—vibration, heat, pressure—and analyzing this data to understand more clearly what needs to be repaired, replaced, or rebuilt before it has a chance to fail," says Kundakcioglu.
Companies in this article