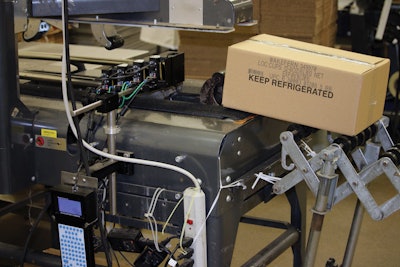 Ambriola packages and markets wedged and grated cheeses in a range of packaging sizes and formats, mainly in plastic cups and film bags. Cups are supplied by King Plastics (www.kingplastics.com), and film bags are from Forma Packaging. Cups are filled using fill/seal/overcap equipment from Oystar North America (563/391-1100). Grated cheese products are filled on four semi-automatic auger/agitator filling machines from multiple suppliers. For quality control, Ambriola uses X-ray equipment from Smiths Detection.
The company uses Genesis small character printers to deliver shelf-life code-dating for its primary film bag and plastic cup packaging and is happy with the performance of those printers. But Ambriola saw a need to make some upgrades in its shipping case printing capabilities to better serve their customers' requirements for enhanced printing flexibility.
Production Manager Moustapha Diagne notes, "After evaluating various options, we decided that the Evolution ink-jet printers from Digital Design, Inc. [and http://evolutioninkjet.com] give us more flexibility in terms of the number of characters per line. These printers also enable us to generate UPC codes—a must for today's packaging. And since we installed the printers, we have experienced less downtime. There is no ink spillage, and nozzle-clogging instances have been diminished, resulting in faster production. Each printer head has its own cartridge, which makes troubleshooting more efficient."
Ambriola is printing four lines on each shipping case: customer info (such as Wakefern co-op supermarkets), product description/net weight, sell-by date, and UPC code. Diagne says, "We chose these printers because of their efficiency and affordability. They are small, compact, neat, and fast. The units can easily be mounted to high-speed package conveying lines. They deliver high-quality printing of flexible information and UPC codes to our corrugated shipping cases."
Corrugated case flats are supplied by Interstate Container. Case taping equipment is from Little David/Loveshaw and incorporates high-speed (80-ft/min) conveyors. Packed shipping cases are pallet-wrapped using semi-automatic stretch-wrapping machines manufactured by Lantech.
Diagne adds, "We initially installed DDI Evolution ink-jet printers in 2008. Personnel from DDI were fully involved from start to finish in making sure that we understood how to operate the printers. To this day, they still give us courtesy calls or offer to stop by whenever they are in our area."
Companies in this article
Videos from King Plastic Corporation