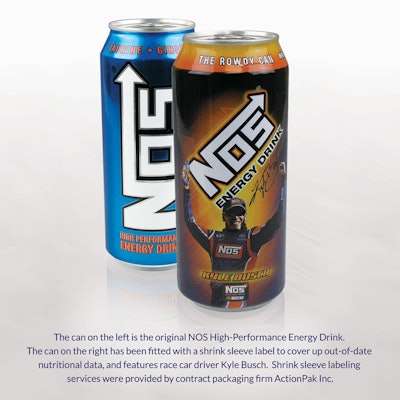 Recently, Fuze Beverage, owned by The Coca-Cola Company, found itself stuck with more than one million 12-oz. cans of its carbonated NOS brand energy drink in storage. The product, valued above $2 million and targeted as "fuel" to NASCAR race fans, couldn't be sold as-is because it was out of compliance with updated nutritional labeling regulations. 
There was no practical way to repackage the drink inside the cans, so labeling seemed an option. One early suggestion was made to salvage the cans by using a pressure-sensitive label with updated nutritional information applied over the old infomration. Contract packager ActionPak Inc., Bristol, PA, was part of the discussions, and explained why this approach was impractical.

"We were concerned that use of a label might give consumers the impression that there was something potentially wrong with the product, or that it was a knock-off of the original," explained Ira Smith, CEO and President of ActionPak. "Plus, it would be virtually impossible to perfectly match a pressure-sensitive label to the can's seam line. Further, we were concerned that consumers would be reluctant to buy, let alone consume, a product that had the appearance of a defect." In order to salvage the existing product, the out-of-date nutritional information would have to be covered over with the new, correct data in a manner that would be undetectable by the consumer.
The great flexo cover-up
ActionPak recommended a print-registered flexo-printed shrink sleeve. Applied properly, it would completely cover up the information in question, and in a manner that would bear a very comparable graphic appearance and texture to a normal decorated aluminum can.

Delivering more than a cover-up solution, ActionPak made another suggestion designed to increase the product's appeal to its target audience, while also giving subtle rationale to the rather unconventional use of a shrink sleeve label for the NOS cans. "Knowing that NASCAR followers were an important target audience for this brand, we suggested positioning the product as a 'Special Premium Edition,'" Smith explains. "By coincidence, the spokesperson for the brand, race car driver Kyle Bush, was having an amazing season. As a result, our client readily welcomed our suggestion to designate the package as a limited edition version featuring Kyle Bush."

The next task was to make the transformation of the can completely undetectable by eliminating any possibility of bleed-through. After experimenting with several background coatings, the ideal solution was identified. By printing both surfaces of the shrink sleeve – the outside of the sleeve with the new graphics, and the inside flooded with silver – none of the original graphics would be visible through the label. "With this solution, ActionPak was able to solve a serious packaging dilemma, and create a marketing opportunity at the same time," says Smith. "In cases involving a package graphic cover-up, shrink-sleeve labeling often represents a viable and more cost-effective option compared to the lost revenue of discarding thousands or millions of units of product."

ActionPak maintains multiple lines of shrink sleeving equipment at its Pennsylvania facility, and promotes both short- and long-run co-pack business of conventional as well as multi-packs such as those used in club store pallet displays.

"In addition to correcting label information, small volume shrink sleeve labeling is an ideal solution for brand identity transitions, market testing, regional customization, seasonal or specialty editions, and cross-promotions." 
The company maintains its main website at www.actionpakinc.com as well as a specialized one promoting its shrink sleeve business, at www.apkshrinksleeves.com.
Companies in this article