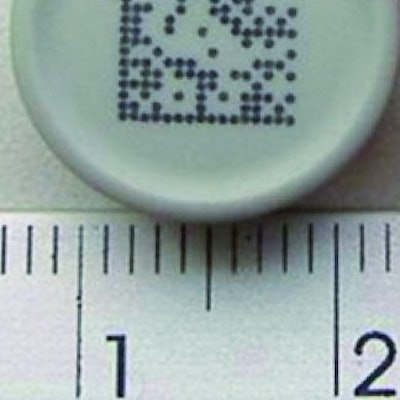 In general, Kearns says, both the UDI and DSCSA provide structure to enhance and secure the supply chain for their respective industries, but ultimately address improving patient safety.
"There are differences in the data transfer and management between the two which will determine complexity of software and IT systems," Kearns explains."Yet, looking at the code itself, we can highlight the important aspects of each, shared or distinct.
"Mutually, both UDI and DSCA will require human-readable, plain text and Automatic Identification and Data Capture (AIDC). The AIDC will be in the format of high-resolution barcodes, albeit perhaps in different structures. Whether for UDI or DSCSA, the key is clear: the codes must be robust and sustainable through the supply chain for accurate product identification," says Kearns. (SEE RELATED STORY HERE.)
What's required?
• Medical Device UDI: Unique Device Identifier in plain text and AIDC on the package—Identifier is typically unique to lot/batch only.
• Pharmaceutical DSCSA: Unique Product Identifier in plain text and AIDC on the package—Identifier is unique to each individual saleable product (serial number).
What's in the code?
• UDI = Device Identifier (DI), typically GTIN + Production Identifier (PI), typically lot and expiration date
• AIDC: Typically GS1-DataMatrix or GS1-128 barcode
DSCSA = GTIN + lot + expiration date + serial number
AIDC: GS1-DataMatrix
Printing and marking solutions often selected to apply crisp, high-resolution codes on both medical devices and pharmaceutical packaging:
- Thermal ink-jet (TIJ): Chipboard, Tyvek®, labels, foils, coated stocks
- Thermal-transfer overprinting (TTO): Flexible packaging, labels, films, and foils
- Laser: Most materials including metal, glass, paperboard, and plastic
- Label print and apply: Cases, inner packs (bundles)
Medical device-specific printing and marking solutions:
- Laser: Ideal for direct, permanent marking on reusable medical devices made of various materials such as metal, plastic, and glass.
- Additional systems may be required: Print-Verify-Reject Systems (designed for the various printing technologies) and other systems to help ensure code quality and accuracy.
Pharmaceutical-specific:
- Systems: Variable-data coding solutions; line management systems
Summary
Each customer and their product(s) will have specific needs to meet their particular regulation, depending on materials, line speeds, data management, etc. The common theme for both medical device and pharmaceutical companies is the basic necessity for high-resolution, sustainable codes for clear product identification.
Please note that the comparisons provided here are not intended to provide legal advice. To determine how your business may be affected by UDI and DSCSA, please consult with your legal counsel.
Tim Kearns, Pharmaceutical and Medical Devices Manager, Videojet, focuses on the pharmaceutical and healthcare industries, supporting North American pharmaceutical and medical device customers with their print and laser marking systems and case coding solutions for product packaging identification. Most recently he's been helping customers tackle serialization and traceability challenges.