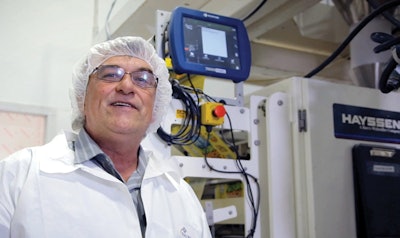 Express Packaging has become one of the first companies to install the latest continuous ink jet (CIJ) and thermal-transfer overprinting (TTO) systems onto its production lines. Launched at Interpack earlier this year, the A520i CIJ and V230i TTO printers from Domino have allowed the Newcomerstown, OH, contract packager to achieve in a short time frame higher-quality coding and marking within its harsh production environment.
A business that likes to define itself as a "custom job shop," Express Packaging has been active for more than 30 years and has provided tailored primary and secondary packaging solutions for a variety of brands, including big names such as Nestlé and Hershey. Specializing in a variety of techniques that include pouching, cartoning, shrink wrapping, and label printing, Express Packaging employs approximately 500 people across two locations in Ohio and two in Chicago. The firm is capable of running between 10 to 20 food packaging lines per shift.
Because of the large quantity of orders it processes on a daily basis, the company required a coding solution that not only could handle the numbers but also withstand the harsh production environments that are typical of the food industry.
"We believe no one is more committed to food safety or to hitting their schedules on time than we are," says Fred Hartzler, President of Express Packaging. "But when you've been using coding and packaging machinery in an environment like ours over a long period, you're eventually going to experience some issues along the production lines. So it's in situations like these that I'm interested in seeing how a supplier can support us with these problems. That's what made me eventually go with Domino's offering, because the support they deliver is just as efficient as the equipment they provide."
CIJ a perfect fit
Proving to be a natural fit with Express Packaging's challenging environment was the A520i, which is used on flexible film packaging in Express Pack's Newcomerstown plant. The latest iteration in Domino's successful A-series, it builds on the heritage of the i-Tech range. This highly resilient CIJ printer comes wrapped in an IP55 marine grade stainless steel cabinet, with IP66 sealed electronics enclosure. This makes it a suitable coding choice for a factory where wet foods are handled. Furthermore, the A520i also incorporates an innovative plenum airflow cooling system, which ensures the printer stays cool no matter how high the surrounding temperatures may be.
Dan Crone, Project Manager and Maintenance Manager at Express Packaging comments: "Much like our customers, we demand not just quality packaging, but also a degree of innovation and that's exactly what we get with Domino's A520i."
Crone goes on to praise the features of the V230i, seven of which are in Newcomerstown: "What I particularly like about this printer is that the operator interface is common with other products and is very easy to program." Like the A520i, the V230i is used for coding of flexible film packages.
Printing consistently from low to high speeds (10-750 mm/s), the V230i uses Domino's intelligent Technology to provide solutions for most TTO coding requirements. With this technology, unique dancer arms allow for consistent ribbon tension to be maintained during any speed changes in printing. Also, no compressed air is involved, as this is an all-electric system. So any plant air fluctuations that could interrupt print quality are eliminated. Operating costs are also lowered by not relying on compressed air, and customers can reduce emissions and energy usage, thus helping them hit their sustainable packaging goals.
Available in two 300-dpi width options—32-mm and 53-mm—the V230i provides complex, high-quality coding information including text, 2D bar codes, dynamic bar codes, and logos. The wide range of ribbon grades available allows Express Packaging a variety of choices for coding onto its numerous packaging substrates.
Hartzler also mentions how Express Packaging is now enrolled in Domino's Relax Program, which includes annual line audits and a full five years' labor and parts warranty, along with the installation of new printers and accessories. "With this program we lease the equipment and Domino comes in to set it up and service it for us, which is especially helpful, as it relieves us of all maintenance that we have to perform on the coders."
"Not only does Domino have good products," says Hartzler, "the people who represent them are the best in the industry, and that's what gives me so much confidence to use their systems. The customers I deal with do not want excuses, they want results, and that's exactly what I get from Domino."
Companies in this article