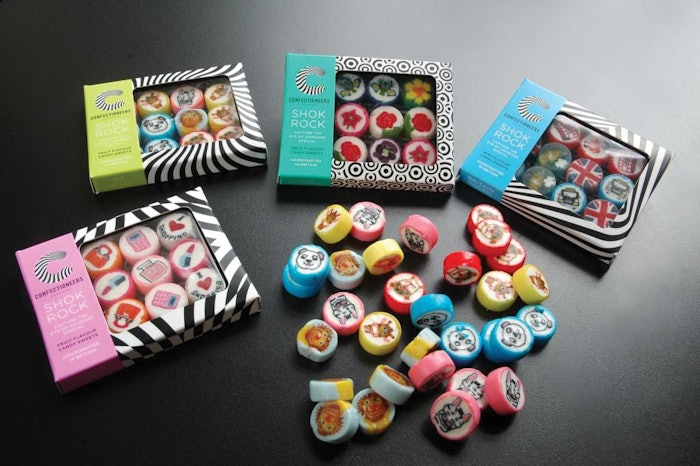 From $6.6 billion in 2013 to $14.4 billion in 2018—that's where packaging consultancy Smithers Pira sees the market for digitally printed packaging and labels going. They're not alone in forecasting robust growth in this sector, which is why we thought the timing was right to take a look at recent developments in digital. Who's doing what and what's coming next?
The development that might be the most intriguing of all is digital creasing and cutting of folding cartons, even though it's digital converting as opposed to digital printing. First shown at Drupa 2012, this innovative technology comes from Israel, birthplace of so many digital breakthroughs, and a company called Highcon. Highcon's Euclid machine transforms cutting and creasing of cartons from an analog to a digital workflow, which greatly streamlines carton finishing. It also reduces the need for the highly skilled employees typically needed to make carton creasing and cutting dies, which involves the skilled hammering of steel rules into sheets of plywood.
The key here is DART: Digital Adhesive Rule Technology. Digital creasing data is uploaded from a DXF file to the Euclid system. Proprietary software translates the data and sends it to a special dispensing unit that contains an unnamed polymer. This polymer is released onto a PET jacket mounted on a hard metal upper cylinder. In essence, the dispensing unit extrudes onto the PET jacket the rules needed to make the carton creases. The pattern it extrudes is dictated by the digital data uploaded from the DXF file. As soon as the polymer rules are laid down, they're hardened by exposure to UV light. Directly beneath the upper cylinder and its PET jacket is a lower cylinder that has a soft, silicone-like blanket mounted on it. All that remains is to send printed paperboard carton sheet through the two cylinders. As the upper cylinder with its UV-hardened rules presses into the soft surface of the lower cylinder, the carton stock in between is creased by the rules. Once the required number of sheets has been creased, the PET jacket is removed from the upper cylinder and a fresh one takes its place so that a completely different job can be downloaded.
As for cutting individual cartons from the sheet, it's done within the Euclid system immediately after creasing. An array of high-powered CO2 lasers combine with scanners and advanced optics to perform whatever cutting design was spelled out digitally in the uploaded file.
The first converter in the U.S. to install a Euclid system is Anro, where commercial production is scheduled to begin later this year. But first out of the gate and already into commercial production with a Euclid system is Glossop Cartons in the UK. According to Glossop's Brian Sidebottom, throughput is about 4 linear meters/sec, which of course is considerably slower than conventional carton creasing and cutting operations done with conventional metal rules mounted in wooden dies. But make-ready time on the Euclid is 30 minutes currently, and Glossop aims to whittle that down considerably closer to the 15 minutes that Highcon claims is a reachable target.
Customers with short-run requirements will be the target audience here. In an age when we as consumers are looking not for packages designed for the herd but rather for the one package that best fits our own individualized self-perception, there should be no shortage of brand owners who will find the Euclid technology attractive. It eliminates a seven-step process that is costly, involves multiple machines in multiple stages just to produce the die cut plate, and requires lengthy set-up time once the die cut plate arrives at the die cutting machine.
PET bottles
While Highcon used Drupa to unveil its Euclid concept, KHS went with Drinktec 2013 to introduce a digital printing technology that could be a real game changer. The KHS Innoprint system offers direct digital printing on PET bottles. Among the advantages this delivers are unheard-of flexibility, reduced or eliminated inventories of labels, and simplified logistics.
The standard Innoprint has five color carousels, each of which applies one color: white, cyan, magenta, yellow, and black. Within each color carousel, drops of ink in the stations are printed onto the untreated PET surface by high-speed print heads where they gradually form the required pixel. In the print heads, the ink flows continuously through piezo-active channels that can be activated by electrical pulses with a frequency of up to 50,000 Hz. By narrowing these channels, drops of varying fineness from 6 to 42 picoliters can be created. The result is very sharp printing outlines. A "pinning lamp" partially dries the applied ink by way of LED UV in each printing station so that the ink won't run during subsequent ink applications. In the last carousel, an LED UV curing unit hardens the ink and causes it to adhere tightly to the PET surface.
Format changeovers are recipe-controlled. Bottles are handled by the neck and the print head is mobile, so no elaborate manual changeover of format parts is necessary. If the bottle type isn't changed when a new image file is used, the transition in production is seamless and without interruption. The system is designed to print 36,000 PET bottles/hr. But its modular design lets a customer opt for lower output rates in the beginning and boost output by adding components later on.
According to KHS Head of Technology Management Peter Stelter, ink development was crucial.  Among the challenges was developing an ink with virtually no odor. Work on the inks began as long ago as 2008. He prefers not to identify the ink partner. He adds that a functioning machine was on display at Drinktec, a prototype and beta installation is due somewhere in Europe by September, and some time in 2015 the machine will be ready for the marketplace worldwide.
As this issue goes to press, Krones has announced a similar digital direct printing technology for empty plastic containers. Called Deco Type, it offers print heights of up to 200 mm using UV-cured inks.
Taking digital mainstream
Also now making its way into the marketplace after a headline-grabbing debut at Drupa 2012 are two digital presses from HP Indigo, the 20000 and the 30000. Both are wide enough to make digital printing more suitable for flexible packaging and folding cartons in the mainstream packaging material supply chain. The 20000 roll-to-roll press for flexible packaging has a 30-inch web width and 44-inch repeat length. The sheet-fed 30000 for folding cartons accepts a 29.5 x 20.9 inch sheet size. Both presses are aimed at meeting the growing need for shorter runs of packaging materials now that micro-segmentation, SKU proliferation, event-driven packaging campaigns, and packaging that targets niche demographics are increasingly becoming the norm. What makes these two presses significant is that the web or sheet width they offer is far greater than what has been previously available in digital presses for packaging materials. So "shorter" runs don't have to be all that short after all.
Installations of both these presses began in 2013, and among the very first to purchase a 30000 was Heret Printing of Yavne, Israel. "The customer wants good quality and good price," says Heret President Avi Noiman when asked why he was willing to be a pioneer in such a new technology. "This press will let us deliver that, especially for shorter runs."
Worth noting is that Heret, whose business is primarily centered on marketers of personal care products, had no previous experience with digital printing. So why be a pioneer with a press that so dramatically changes the carton converting landscape?
"We felt that by entering into something completely new like this and being first, we'd have HP Indigo's full attention," says Noiman. "Not to mention the fact that we were able to negotiate a favorable price simply because it was so new. But more than anything we saw this press as a way to get away from wasted paper and wasted make-ready time."
Another early adopter of the 30000 is Waukegan, IL-based Nosco. Pharma, natural health, and personal care are the markets Nosco serves. Unlike Heret, Nosco has been knee deep in digital printing for some time now. In fact, its new plant in Bristol, PA, where the 30000 has been installed, does nothing but digital printing for the markets it serves. According to Nosco VP Sales and Marketing Craig Curran, the press was scheduled to be running commercially April 14 of this year.
"We've been using digital printing for folding cartons on the HP Indigo 6600 since 2010," says Curran. "But format size is limiting. You're printing usually one-up and 13 inches wide. So it's really not the best fit for cartons. That's why we've been working with HP for the past four years in developing the 30000. We'll be focused on short to medium runs in a variety of carton styles. The idea is to make such runs more affordable with faster cycle times because you're not dealing with plate changes."
Curran adds that a key driver behind Nosco's interest in the 30000 is the fact that pharmaceutical manufacturers are seeing an increasing number of shorter runs. "There are no blockbuster drugs any more produced in long runs," he says. "The trend is to niche drugs. On top of that, many of these products are distributed internationally and need multiple languages. The natural health market is similar. For every Vitamin C that is a big-volume mover, there are a dozen small-run niche products."
Nosco Marketing Communications Manager Heather Hill likes the 30000 because it offers the best economics in color management. "It's four-color process printing that can go up to seven colors," says Hill. "It matches up to 97% of the pantone system. That brings benefits in color management compared to relying on flexo printing because flexo frequently requires the use of spot colors to match certain requirements in a customer's design. With this press we keep costs down and still hit the colors customers want 97% of the time."
And in flexibles…
Installations of the HP Indigo 20000 for roll-to-roll printing of flexible film are also underway. As with the 30000, the 20000 is being phased in globally. Innovative Labeling Solutions in Cincinnati and Wipf in Switzerland have presses that are weeks away from commercial production. Rako in Germany and a firm in Japan took shipment in April of this year, while a second North American installation will be announced soon.
"We don't see analog printing going away," said Simon Lewis, HP Indigo Director of Strategic Marketing, in an April 2 virtual press briefing. "We see it shrinking as digital grows, but the two will coexist for the next decade at least. There has never been a time in the last century when just one print process could do everything. Different print technologies have their sweet spots. Do I see a mass-produced package like cartons for Kellogg's Corn Flakes being printed digitally any time in the near future? No. But a special-promotion edition of those corn flakes done digitally I can see."
Lewis is also the first to admit that it's still early days for the 20000 and 30000. "Where installations exist, the converters are early adopters. Now we must learn from our customers and from the market so that we can continue improving and executing," he said in the April 2 briefing. "It's about far more than the printing, which is challenging enough in itself. There's workflow, regulatory issues, lamination strength, coating issues, and more to be worked through." He concluded his press briefing by inviting any and all to Dusseldorf, Germany, and the HP Indigo interpack booth to learn more. Both the 20000 and the 30000 will be on display there.
Digital printing 2.0?
It's probably worth noting that both HP Indigo and Highcon technology have the touch of Benny Landa about them. Landa is the one who first brought the Indigo press to market in the 1995; HP liked what they saw in the technology and bought it in 2002. As for Highcon, Landa is the chairman of Highcon's Advisory Board.
It turns out Landa isn't quite done waving his innovation wand. Back in the game with a company called Landa Nanography, his latest invention is nanographic printing. Based on nanotechnology, the science where ultra-small particles are measured in billionths of a meter, nanography is described by Landa as a new way of printing that makes it possible to migrate mainstream applications typically done on an offset press to digital. "For the first time," says the Landa Nanography Web site, "you do not have to choose between the versatility and short-run economics of digital printing and low cost-per-page and high productivity of offset printing. Now you can have both.
"It begins with the ejection of billions of microscopic droplets of Landa Nanoink onto a special image conveyor blanket. Each row of ink ejectors adds its own color of Nanoink. Each droplet of Nanoink lands at a precisely designated location, blending with other droplets too create the final colored ink image. As each droplet lands on the heated blanket, it begins to spread and lose its water, becoming thinner as it does so. When all the water is evaporated, the ink becomes an ultra thin, dry polymeric film. As the Nanoinnk spreads and dries, it becomes only 500 nanometers thick, the thinnest ink image of any printing process. The completed image is now ready to be transferred. Because of its unique properties, Nanoink images have the amazing ability to bond tenaciously to any paper or plastic without penetrating the substrate. Upon transfer, the Nanoink film instantaneously bonds to the paper, forming a tough, abrasion-resistant laminated layer. Nanoink images can be transferred to plastic packaging films or to sheets or webs of ordinary coated or uncoated paper without any kind of pre-treatment. Since Nanoink images are already dry, there is no need for any kind of post drying. So two-sided printing becomes simple, and printed goods can be immediately processed right off the press."
One of the first to order a nanographic press is Don Sinkin, CEO at Discgraphics. Due for installation later this year is a Landa S-10. When asked what he makes of it all, Sinkin sums it up this way.
"Fundamentally it's placing the ink droplets on a carrier sheet and then transferring those droplets onto the substrate. It's not so different from offset lithography, where you offset the dots from the plate to the blanket to the substrate.
"I view this as an advanced method of digital printing. I think the quality will be better and I think it will offer me the opportunity to print on a wider variety of substrates with little downtime required in going from one substrate to another. Also, the format size is optimized at 40 inches across and 28 inches around the cylinder. The sheet can be thicker, too. Single–sided board can be from 3- to 32-point caliper thickness. And double-sided can be up to 16-point. Currently we won't print anything thicker than 28 point, and we're reluctant to go that thick."
Sinkin sees similarities between nanographic printing and another disruptive technology called 3D printing, or additive manufacturing. "With both of these," he says, "everybody wants one, but nobody knows exactly what they're going to do with it. Although having said that, the upside in nanographic printing is clear. Specific game-changing advantages are well established. Now we have to see where it takes us. That's the part that remains to be seen."
Corrugated takes to digital
Moving away from carton cutting, PET bottle decorating, wide-web systems for sheet-fed paperboard and flexible films, and nanography, it's worth noting that some fascinating things are happening in digital printing of corrugated, too. At last year's Print show in Chicago, Xante was showing a wide-format digital sheet-fed press called the Excelagraphix 4200P. It uses Memjet Waterfall Printhead Technology for four-color printing of sheets up to 42 in. wide. Sheet thickness can be up to 5∕8 in, and print speed is up to 12 linear inches/sec.
The first customer to use this press is a supplier of corrugated packaging, including pizza boxes. The firm can now send its pizzeria customers boxes that carry not only four-color graphics but also advertising for local businesses—insurance agents, hair salons, auto repair shops, and so on. The pizzeria shops could never have entertained such a thing back when they were ordering generic boxes flexo-printed in one or two colors in minimum orders of at least 5,000. But it's easy enough when the boxes are printed on a digital press that requires no plates or make-ready time and can crank out boxes in quantities as low as 300 before moving immediately to the next job. The four-color boxes in small runs cost twice as much, but the pizzeria shop offsets that upcharge by selling advertising on their boxes and by not having to inventory so many boxes at once. It's a win-win for the box producer and the box buyer.
Another new technology focused on digital printing of corrugated comes out of Baltimore by way of England. Baltimore-based Sun Automation Group, a world leader in corrugated handling equipment like feeders, ink systems, and die cutters, is introducing its CorrStream technology through CorrStream Print Centre in Bristol, UK. This equipment feeds flat, uncut blanks of corrugated from a magazine through Kyocera drop-on-demand print heads mounted in a proprietary print engine. Out the other end come four-color-printed parts at a linear speed of about 75 m/min.
According to Sean Maloney of CorrStream Print Centre, this method of printing corrugated should appeal to converters because they are under tremendous pressure to reduce run lengths. This is partly due to the fact that primary packaging, more fragmented than ever, is being produced in shorter runs than ever, which brings with it a corresponding need for secondary packaging in similarly smaller runs. But it's also because brand owners want inventories pared down as much as possible.
Regardless of the reasons behind the demand for shorter runs, an obvious answer is digital printing. Yet it must be high-quality digital printing because the trend toward retail-ready packaging continues to pick up steam. What that means is that corrugated cases aren't staying in the store's "back room" as they once did. They are being placed on store shelves and must be attractive and pleasing to the consumer—the "silent salesman," as it were.
The CorrStream 20 has a maximum print width of 557 mm; maximum sheet width is 1,000 mm. The CorrStream 40 has a maximum print width of 783 mm; maximum sheet width is 1,000 mm. The CorrStream 66 has a maximum print width of 1,245 mm; maximum sheet width is 1,600 mm.
CorrStream technology relies on water-based inks. Another company said to be developing a similar technology for printing of corrugated sheet is Spain's Barberan. But Barberan's approach involves UV-cured inks.
Digital IML mockups
Finally, what if you were a brand owner and you wanted to see what an in-mold label would look like in a certain packaging application? Suppose you wanted 20 samples of in-mold-labeled packages, and you wanted them in a few days instead of the 10 or so days that it typically takes? Now, thanks to newly developed digital printing capabilities called MockUp IML at Verstraete, you can have them.
Like most of what Verstraete produces in commercial volumes, the mock-up labels are polypropylene. Specifics on the press or the inks involved are not available. But MockUp IML can be used for injection molding IML, blow molding IML, or thermoforming IML. Verstraete's Dieter Maes emphasizes that the firm's capabilities at this point involve nothing more than mock-up quantities. But should marketplace reaction be as positive as Verstraete hopes, a next step might be small-volume commercial runs with IML.
Labels led the way
Label converters have been as quick and numerous as any to take advantage of digital printing, and three good recent examples include L'Emballage Tout, Matrix Label Systems, and Nasco.
Based in Montreal, L'Emballage Tout has installed the SurePress L-4033A from Epson for high-quality, short run jobs for customers in the retail, food, and beauty industries. Using MicroPiezo ink-jet technology, its six-color (cyan, magenta, yellow, black, orange, and green) water-based ink set produces a great range of colors and consistent results.
"We were finding more and more customers needing 500 to 5,000 labels per run," says Yves Tougas, President of L'Emballage Tout. "We'd have to purchase printing plates, and if there were changes in their artwork, we'd have to go out and buy new plates and continually make adjustments. There are times when we would even have to turn away customers with short-run needs. This is what pushed us to invest in a new digital label press."
Tougas selected the SurePress L-4033A on the strength of its wide color gamut, its ability to produce accurate repeat jobs, and its ease of use. It also fit the budget, adds Tougas.
"With the Epson SurePress we are now able to work more efficiently," says Tougas. "When using the flexo press, we were dealing with a four-hour process. But with the SurePress, we can start printing five minutes after receiving the print files from our customers. There's no headache from purchasing printing plates. And when it comes to matching colors from a previous run, we are sure the labels will print exactly the same, right from the first to the last. Our customers are very happy because of the quick turnaround and the impeccable image match."
A similar expansion of capabilities took place recently at Matrix Label Systems of Plainfield, IN, whose customer base in pharmaceuticals, cosmetics, and other consumer products is comparable to that of L'Emballage Tout. Once again, shorter run lengths and multiple SKUs were the drivers. "Flexo just isn't suited for this because of the cost of plates and die tooling," says Bret Perill, Marketing Director at Matrix Label Systems.
In late 2012, Matrix saw that it could get the best mix of run-length flexibility, substrate selection, cost effective production, and quality with a Jetrion 4900ML UV inkjet digital label press from EFI.
"The number one selling point for us was the fact that the EFI Jetrion is UV curable ink," says Perrill. Not only does it run on a wide range of standard converting substrates, it offers exceptional durability, so there is no need to spend more time or money adding a protective coating or lamination to digitally printed labels. "The ink is very durable," says Perrill. "The only way I have been able to get it off a substrate is with a razor blade."
The Jetrion 4900 ML also has the advantage of fully integrated, in-line finishing. "In-line laser cutting means we no longer operate with tooling or dies," says Perrill. "We're able to input a job, run it, and get finished rolls of labels at the end."
Adding the digital press has allowed Matrix to branch out to more customers. "I'm launching product that I had been trying to get off the ground for years," says Perrill. "There are opportunities that we couldn't pursue before we had the Jetrion press."
As for Nasco International, it wasn't so much expanded capabilities that management was looking for when they went with digital printing of labels. It was cost savings and simplified sourcing.
Nasco is a 70-year-old supplier of education products (anatomical replicas, manikins, physical education equipment, drug and alcohol awareness kits,) and agricultural supplies (combs, brushes, artificial insemination products, sampling bags used for quality control in a dairy setting). For many years it relied on outside converters for its supply of labels, and more often than not the labels were printed on an offset press.
Then in 1999 the firm tried a digital four-color thermal-transfer printer. By taking production in-house, lead times were shortened. But print quality was not the best, and marketplace shortages of the ultra-thin polyester film used to produce thermal-transfer ribbons make pricing unstable. So in early 2012, Nasco installed a CDT 1600-C from Colordyne, which is powered by Memjet technology. Labels range from two to eight inches wide and are used on corrugated shippers as well as on stretch-wrapped pallets.
"A small-footprint ink-jet printer, it began working for us right out of the box," says Dave Lass, Printing Supervisor at Nasco. "It's capable of speeds to 12 inches per second with photo print quality up to 1600 x 1600 dpi on a variety of stocks and substrates. For long or short runs, it's a workhorse that hasn't let us down. Rush order? No problem. And because it lets us print labels in house, on the same day, and in the quantities needed, we greatly minimize the large, costly inventories we use to have to deal with."
Companies in this article