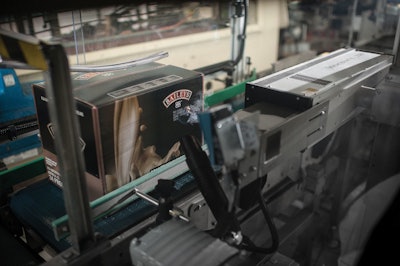 Launched in 1974, Bailey's Original Cream Liqueur grew steadily and impressively until sales began to decline in 2008. The brand's owner, Diageo, was convinced that it was time for a new look, which led to the February 2013 launch of a taller, more slender, more elegant glass bottle whose shoulder is graced by the redesign's most distinguishing feature: a pressure-sensitive label carrying the brand's iconic "double B," which appears to be hot-stamped in gold in a Celtic font. That same image was found on the shoulder of the previous bottle design. But because it was blown right into the glass, it didn't have nearly as much visual impact. The new shoulder label is a whole different story.
"It's an iconic symbol giving the marketplace a recognizable badge with a Celtic flair that symbolizes Baileys," says Diageo's Engineering Maintenance Manager Chris Byrne.
The targeted demographic is still women, whom Diageo refers to as "adorers" of Baileys. In a story posted in the UK's Marketing magazine, Garbhan O'Bric, Global Brand Director for Baileys, elaborated on how the new design—which involved the Lewis Moberly design team—emerged.
"The new bottle design, which is [the brand's] single biggest transformation since launch, is not something you enter into lightly. Now it's taller, slimmer, and we have lifted the shoulders, so it's more elegant. [For design] we worked with the brilliant Mary Lewis in London. The 'double B' has been elevated as part of the iconography." O'Bric says the double B did incredibly well in consumer research, as it was associated with style and fashion brands such as the Gucci double 'G' logo or the Fendi double 'F.'
"Baileys was specifically created for a female profile, with the core belief that women deserve better," O'Bric continues. "So we took that, which defined Baileys during its successful times, and made it timely and relevant for today. By redefining the position Baileys takes, which is to champion and celebrate the progress of women and to inspire them to shine, it is our view that this will put the magic and flair back into the brand."
Machinery makeover, too
The new Baileys bottle is made on custom molds by Quinn Glass. Just as intriguing as the package redesign are the many packaging equipment adjustments the new bottle brought to the Nangor Rd. plant in Dublin where Diageo produces Baileys. Perhaps the most sweeping equipment change was the move away from ink-jet to laser coding on labels and corrugated cases.
"The old ink-jet equipment tended to be messy and unreliable, and the support didn't meet our standards," says Byrne. "We spent a lot of time maintaining the ink-jet equipment, which resulted in downtime on the lines."
As a result of the ongoing issues with the coding equipment, Videojet was given the opportunity to offer an alternative solution and recommended their 3320 Laser Marking Systems. After comprehensive trials to prove their operational reliability, superior print quality, and ease of use, these systems were chosen for all six of the Nangor plant's Baileys bottling lines.
"It was clear to see that Videojet was way ahead on the concept of how they could support us with an innovative solution, whereas other coding suppliers wanted to replace like for like," says Byrne. "We were looking for a solution that was simpler, faster, and more reliable, and Videojet supported us in achieving those goals."
Laser coding on both bottle labels and on the corrugated shippers used for secondary packaging brought this comment from Diageo Packaging Engineer Ross Phelan: "Overall productivity has vastly improved. We experience less downtime, more equipment reliability, and easier operation."
Laser coding not only gave Diageo the opportunity to increase productivity and maximize the uptime of their lines, it also brought excellent print quality commensurate with the quality of their new packaging design. Even data entry issues have been addressed, as Diageo utilizes a Videojet Code Assurance solution for centralized message management and printing control. The printers in the facility are managed from a centralized database, which takes message creation and management off the production floor. It includes a bar code scanning system to eliminate the potential for incorrect data entry. Removing manual entry of information was a big win for the operators, and it gave them confidence that the right code was on the right product 100% of the time. Product recall and rework arising from coding errors are now becoming a thing of the past.
"Since the arrival of the laser coders, we have seen a lot fewer mistakes," says Diageo Operator Barry Murray. "The interface and bar code scanners make inputting information for each job very simple. From an operator's point of view, the Videojet lasers are far easier to work with. There is no real need for maintenance."
Labeling upgrade
Labeling was another area where some pretty dramatic changes were needed. Cut and stacked paper labels applied by glue were replaced by pressure-sensitive front, back, and shoulder labels. The front and back paper labels are from Eurostampa and they combine offset and flexo printing. The shoulder label, supplied by Gewa Etiketten GmbH, is also paper, but the raised gold makes the double B really pop and gives it a premium, tactile finish.
All of the new labels are applied by new Topmodule labeling systems from Krones. The laser coders that code the back label on each bottle are mounted on these Krones machines. According to Byrne, Videojet has a strong OEM strategic relationship with Krones globally, and through a collaborative approach the two OEMs provided a streamlined installation for Diageo as well as excellent levels of customer service support.
"I didn't have to worry about this installation at all," says Byrne. "With our pre-delivery inspections, every single inspection was carried out seamlessly. The global partnership that Videojet can bring is something we haven't experienced in the past. To have the installation completed in Germany with the actual OEM has provided a better all around solution."
Among the lines that changed the most, says Byrne, was Line 4, which is used primarily for three bottle sizes. A Krones depalletizer had to be modified to handle a bottle with a much different center of gravity. Also installed new was the ICS conveyor that carries bottles away from the depalletizer and through the rinser/filler/capper. Change parts for handling the bottles and capping heads all had to be modified. The same was true for the Krones case packer. "It's completely new in terms of part handling, setup, and programming," says Byrne.
Bottles exit the Krones drop packer on new conveyors from ICS. A partition inserter from Bortolin Kemo was retained, but it has new tooling and new programs to handle the new bottle shape. Not retained was the old case sealer, which was replaced by a new hot melt gluing machine from Krones. "Press a button when a new bottle size is introduced to the line and it adjusts automatically," says Byrne. This quick-change versatility comes in handy, as five different bottle sizes are filled on the line. Speeds are 250/min for all five.
Once past the case sealer, each case gets laser coded by a Videojet 3320. A Sick vision system checks to make sure all printed information is okay, a Mettler-Toledo checkweigher makes sure the proper number of bottles is in each case, and then cases are conveyed up to a remote Krones palletizer. Here, too, pallet patterns all had to be reprogrammed. Much of this programming, says Byrne, was executed by integrator ICS. Other software programming worth noting came from Epicor, whose Informance Manufacturing Intelligence Software system brings real-time data acquisition to Diageo personnel who need it. According to Byrne, the Epicor software has helped considerably by bringing much greater visibility into plant operations.
Successful transition
Looking back at how differently things are now done at the Nangor Rd. plant, Byrne describes the transition as very successful. "The change in bottle shape was of course driven by Marketing, but we in Manufacturing and Engineering were involved at an early enough stage to be able to favorably influence certain aspects of the redesign from a manufacturing perspective. Laser coding was our preference, for example, and the brand team was more than happy to oblige. Especially when they saw how clean and professional the coding looked when it was done by laser, not just on the bottle label but on the case, too. Remember, these are high-end preprinted corrugated containers, a piece of advertisement throughout our global distribution system.
"You measure a project like this in phases. First is installation, where you measure that there were no lost-time accidents, everything went in ok, and everything started up smoothly on schedule. In the next phase you measure the quality, fine-tune training, and increase production outputs. And the last phase is to look back at how all the new systems and programs performed through a peak production period. We planned it so that it would be installed before peak and then run through the peak. And now that we look back at how we did in the peak performance period, we see that we did better from an OEE perspective than in the peak period a year ago. That's the sign of a successful project."
To see a spin + zoom 360° photo, click here.
Companies in this article