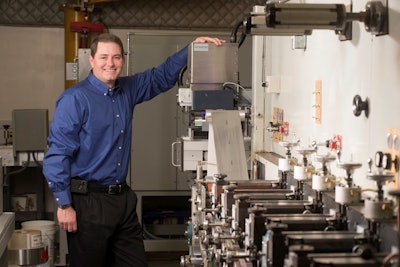 Recently the New Albany, IN, firm realized that a missing component in its full-service, one-stop offering was a reliable solution for printing variable data on a digital ink-jet press. So it added a K600i digital ink-jet press from Domino to its operation.
"Before we purchased the Domino K600i, the orders we could not market included the wide variety of bar codes. And now after having the K600i, our sales team is able to go out and market these jobs", says Kelly Cart, Discount Labels' Digital Prepress Technician.
Domino's K600i, which prints 600dpi at up to 246fpm, utilizes iTech Smart features designed and engineered to not only provide reliable high-quality printing, but also increase uptime and throughput and decrease make-ready, maintenance, and material waste. With features such as CleanCap automated printhead cleaning, StitchLink automated stitching of printheads, ActiFlow ink optimization, and User Selectable Droplet Sizes including 6, 7, 11 and 14 Pico Liter, the K600i has been the solution Discount Labels was looking for.
"Our dealers are selling more and more variable data, and we knew we had to invest in new technology, so we went to Label Expo. We looked at a lot of units including the Domino, and looking at the pros and cons of all the units, the Domino K600i came out on top. We've been running it 24 hours a day, and it's been bullet proof," says Gore. Cart agrees. "As a technical prepress person at Discount Labels, life is much better with the K600i and I am not sure how we functioned without it."

Companies in this article