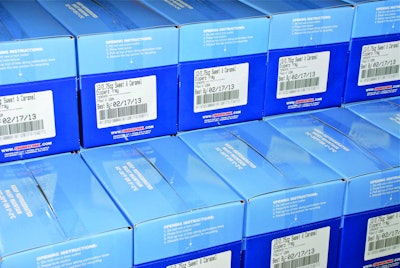 Cashmere, WA-based Crunch Pak is the leading producer of sliced apple products in the U.S. It was founded in 2001 by a consortium of apple growers who believed people would consume more apples if they were easier to eat. So the firm developed a packaging methodology that maintains the crispness and freshness of raw apples after they're sliced. The use of a solution of vitamin C and calcium is part of the secret. The other key is breathable packaging. The flexible packaging material for bags and the film lidding material that gets heat sealed to the thermoformed PET trays is specified to have just the right amount of permeability to limit oxygen ingress while letting just the right amount of internal gases out. Crunch Pak chooses not to identify the makeup of its controlled-permeation materials.
Today the company's products are sold at Costco and in supermarkets and convenience stores across North America. A new 39,000-sq-ft plant expansion was completed in 2012 to handle the firm's rapid growth. With the expanded space, Crunch Pak's workforce of 900 can now process and ship approximately one million pounds of raw product per week.
Crunch Pak produces three package formats: PET clamshells holding pillow-packed apples bagged on vertical form/fill/seal equipment, PET trays with flexible film lidding, and flexible film pillow packs. The packaging format that has seen the most growth in the last couple of years is trays. "We have been producing trays since 2005, but in the last two years the volume has risen dramatically," says Tony Freytag, marketing director at Crunch Pak.
Now running in the 39,000-sq-ft expansion are two Model S60 and three Model A20 tray lidding machines from Reiser. Both run at 12 cycles/min. On the larger S60 machine, Foodles and Snacker trays are produced four-up at 48/min and Dipperz trays are done 6-up at 72/min. On the A20, Foodles and Snacker trays are produced 2-up at 24/min and Dipperz trays are produced 3-up at 36/min.
Case packing of trays into corrugated shippers is done manually, and then a Belcor taper is used to close the cases.
Track and trace
While food safety is absolutely essential throughout the food industry, it's especially critical for a fresh produce company like Crunch Pak simply because the shelf life is so short. The ability to track and trace shipments can help producers improve the recall process should that become necessary.
The Produce Traceability Initiative (PTI), launched by the Produce Marketing Association and other organizations, is an industry-led effort aimed at bringing about further adoption of electronic traceability for every outbound case of fresh produce. Traceability is implemented through the assignment and printing of a GTIN (Global Trade Item Number) code on shipping cartons and pallets. However, the new coding regulations—which call for produce growers and packers to apply the GTIN code along with lot number and human-readable production information to allow retailers to trace each product's origins—posed a major challenge for Crunch Pak. Todd Danko, Crunch Pak's director of operations, explains.
"In our apple packaging and case packing operations, the ink jet print-and-apply labeling equipment we had been using did not have the software capability needed to integrate the required information into GTIN bar codes. They also didn't deliver the print quality to print the scannable bar codes accurately and consistently in our cold room packaging environments where temperatures are kept at just below freezing."
In addition, Crunch Pak was looking to streamline its processes for printing of both primary and secondary packaging. "Given these challenges, we decided it was time to source newer printing technologies that could help reduce time and labor while fully complying with both FDA and PTI traceability regulations," Danko adds.
After evaluating marketplace offerings and seeing a trial demonstration from Videojet, Crunch Pak decided to source its new equipment from Videojet because the vendor offered robust, "smart" printer and labeling options and provided deep domain expertise on networked system and traceability requirements. Danko notes that Crunch Pak has now purchased 23 Videojet P3400 Label Printer Applicators that are used for printing labels that carry the use-by date, GTIN manufacturing code and information, lot number, ingredients, customer number, and country of origin: the P3400 printer applicators also apply these labels to cases. Also installed are 10 Videojet DataFlex Plus printers used for lot and date code information on primary packs produced on Ilapak vertical form/fill/seal machines.
Both Videojet printing and labeling solutions run 18 hours/day, six days/week throughout the year. All of the printers are networked and are programmed by a packaging supervisor responsible for set-up and operations. Information to be coded is accessed through the company's server using Microsoft Access. These files are set up by both maintenance personnel and production management.
Implementation and training
According to Danko, on-site implementation and training of Crunch Pak's packaging supervisor, line workers, and maintenance personnel took about two weeks total. "After all the units were installed and we worked through some initial processing issues, Videojet spent several days training our personnel in how to program and operate the equipment. Once operational, both the Dataflex and the P3400 print-and-apply labellers worked extremely well. Our workers liked them much better and found them easier to use and maintain than the legacy printers that had been in use. The service and technical support we have received from Videojet have been excellent, as well." He adds that his company signed a preventive maintenance contract with Videojet to ensure the system continues to perform satisfactorily into the future.
Since implementing the Videojet printing solutions, Crunch Pak has experienced numerous operational and business benefits. "We now have complete GTIN compliance, which is a great competitive advantage for us," says Danko. "In addition, we are seeing lower label and labeling labor costs, significantly reduced maintenance costs, and few human errors in labeling, thanks to the code accuracy of the networked system."
Danko estimates that the Videojet DataFlex machines will pay off within about 13 months. Payoff for the P3400 print-and-apply machines is more difficult to quantify, since they are part of a whole new automated labeling system designed and installed from scratch. Part of the payoff will no doubt be attributed to the labor cost savings of replacing a manual process with an automated one.
Now that the Videojet equipment has been up and running for some time, Crunch Pak is well satisfied that the new solutions have met all the original objectives. "The print quality is clear and consistent. The equipment is reliable, easy to maintain, and easy to learn and use. We will continue to buy Videojet printers and labelers in the future as our labeling needs evolve and grow," Danko concludes.
Companies in this article