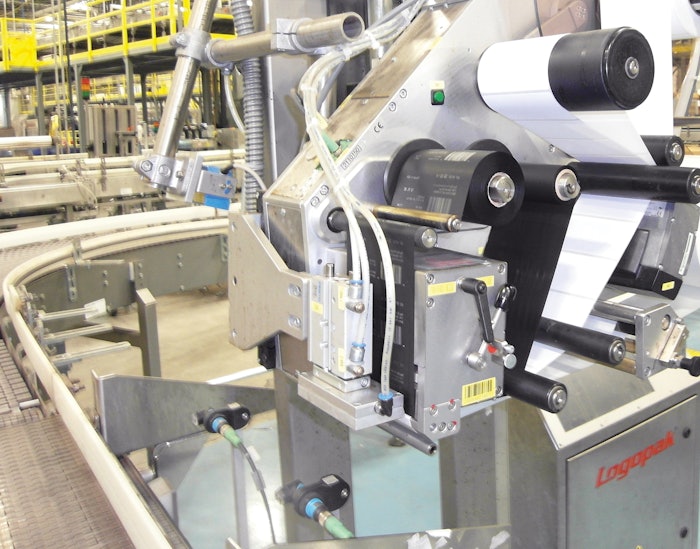 As part of an ongoing expansion plan, Carolina Beverage Group has installed additional Logopak print and apply labelers. The Logopak labelers include the print engines as well as all application equipment. The most recent phase of CBG's expansion began in February, 2012, and culminated with the completion of a new aluminum can line and the installation of a Logopak labeler in July. In addition to increased production capacity, the planned growth allows CBG to deliver thermal transfer labeling capabilities on 100% of their lines.

CBG is a rapidly growing contract beverage manufacturer with wide-ranging expertise in cans and a growing customer base in the energy drink, tea, juice-based drink, and malt beverage markets. According to Jesse King, Key Account Manager at CBG, "There's a strong trend in the industry toward thermal-transfer print and apply unit labeling versus direct print. Instead of having to manage a variety of preprinted cases and trays for our customers, we can inventory standard configurations and more or less customize them by placing on them a label having product-specific information. More and more, our customers are recognizing the advantages of a standard approach for their product lines. For example, one of our customers has been able to reduce the number of trays they need from over a dozen to four."

King adds, "That is why we purchased Logopak labelers for all of our lines in this expansion. CBG's business strategy is to leverage our expertise in blending, filling, and packaging in a way that offers our customers a high degree of flexibility and a wide range of options, and the popularity of thermal-transfer labeling is growing rapidly."

The newly installed Logopak labeler is the same model as the labelers installed on CBG's other lines. Logopak labelers easily accommodate CBG's needs to label shrink wrapped corrugated trays, shrink wrapped corrugated pads, and fully enclosed cases.

Logopak Corporation USA president William Faulkner says, "In partnership with CBG and our regional distributor, Pak-Tec, we learned from the initial installation how to best make set-up adjustments and fine tune sensors and other elements." The result, says CBG's King, was a "very smooth installation and a very quick ramp-up to our required speeds."

Research helps

"We did a lot of upfront research," King notes. "I was challenged to look at a variety of other labeling options. We found Logopak to be the 'Cadillac' of labelers. For example, our customers require extremely precise and consistent placement of labels on their units; and labels require verification for scannability. It made sense to go with Logopak. The internal ROI is very positive and readily justifies the initial investment."

Current production at CBG calls for speeds upwards of 40 units per minute. Logopak labelers are rated for much higher speeds than CBG currently requires. For CBG this approach is both prudent, and it allows CBG to easily accommodate future line innovations in speed and efficiency.

As King puts it, "We have some pieces of equipment on the line that cost a million dollars or more. Logopak labelers are a small fraction of that cost. It would be a shame to purchase a low capacity or poor quality labeler, only to see the labeler slow down the total capacity of a multi-million dollar line. With Logopak, if an opportunity to improve the line presents itself, the labelers can be quickly adjusted to handle significant increases in speed."

CBG uses total line efficiency or Overall Equipment Effectiveness (OEE) metrics as an analytical tool. They track various measures of line down time, efficiency, and quality. Additionally they have been tying all their equipment into an automated system that pulls OEE data together in one report. Interestingly, CBG has not included Logopak labelers in the process. According to King, "Looking at the big picture, the Logopak labelers are not a significant contributor to the overall downtime of our lines. And we're working with them to establish a preventative maintenance and worn parts replacement program to improve efficiency and eliminate unnecessary downtime. As a result, the downtime and quality issues are so minimal that we don't bother to include the labelers in our data analysis."

King adds that Logopak and Pak-Tec have been outstanding partners. "We get consistent and responsive support from them. For example, we like to have Pak-Tec on-site regularly for training so our operators and maintenance team can keep current and ask questions. Logopak and Pak-Tec help us operate the labelers at their highest efficiencies. And that helps CBG deliver outstanding services to its customers."
Companies in this article