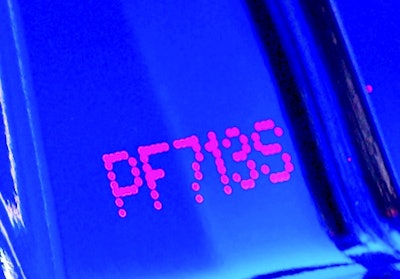 RPC Llantrisant manufactures bottles in eight sizes, from 25-mL to 200 mL. The company uses clear UV-readable ink 1121 from Linx Printing Technologies to code both the bottles and their caps inline using Linx 4900 continuous ink-jet printers. The code includes a batch number, date and time, and the line on which the bottle was produced.
The coding acts as a covert security feature which, in the event of any problem or quality issue, enables the complete pack to be traced back through the entire filling, supply, and manufacturing chain.
The bottles are injection/blow-molded by RPC Llantrisant and then fed into a capping machine. Both the cap and bottle are coded simultaneously by two Linx 4900 units.
The Linx 4900 was selected for its speed and reliability, working at line speeds of around 3,200 bottles/hr. RPC operates two lines with the flexibility to add a third to meet peaks in demand. The portability of the Linx 4900 means the printer can be moved as required depending on production requirements.
"We have been delighted with the performance of both the Linx 4900s and the UV-readable ink," says RPC Llantrisant's manufacturing manager Jon Bedgood. "The ink produces a completely invisible code which is nevertheless very clear and easy to read under the appropriate conditions. The printers have been extremely reliable and we have had no issues since they were installed—we literally only have to start them up and away they go. Our operators like them and Linx provided full training, which means everyone is familiar with how they work."