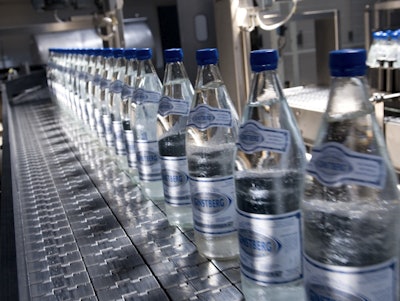 Soft drinks producer EVIDEL Ginstbronnen was established in 1897 on the site of a natural spring near Gent in Belgium and has been bottling its famous Ginstberg-branded pure mineral water and soft drinks for more than 100 years. Sourcing the finest flint-based, crystal-clear glass for its packaging to reflect the purity of its product, the Ginstberg brand has developed an enviable reputation over the years for the healthy properties and quality of its bottled waters and soft drinks.
While the quality and purity of the natural spring water has remained constant over the century, legislation surrounding the bottling and identification of the soft drinks has undergone considerable change. "Although the quality of the spring water and how we capture this purity is key to maintaining a successful long-term product, legislation has increased considerably in the past few years, which demands that we now have to code and identify every bottle we produce for future traceability," says Niko Claeys, assistant managing director at EVIDEL.
So when the company was looking to expand production to include 5-gal polycarbonate water bottles, it began to search for an ink-jet printer that could increase production output and deliver tangible OEE (Overall Equipment Effectiveness) benefits, while performing in a very challenging, high-humidity bottling environment. It selected the Domino A320i, the latest addition to the supplier's A-Series range of continuous ink-jet printers.
"We already had an A300 integrated into our glass bottling line, coding the caps of our 1-litre and 20-centilitre bottles, that had proved to be extremely reliable and required little maintenance over the years. But for this latest investment, we were really looking for a technology that would allow us greater flexibility to expand our core business without having to worry about meeting the ever-increasing legislative demands for product identification," says Claeys.
The A320i, with its QuickStep simplified operator interface, is capable of printing up to four lines of reliable, readable code, text, automatic serial and batch numbering, and real-time clocks. The printer also delivers tangible productivity benefits by using its i-Tech intelligent Technology, which monitors and manages the A320i for optimum performance. In also includes the new Qube ink system, containing the working ink and ink filters, which can be changed in less than 10 minutes and results in the A320i using 90% less system ink and 50% less ink solvent than its predecessor.
"We already had complete confidence in the reliability of Domino's products and after-sales service and support, so we knew we weren't going to be disappointed. But the A320i has really surpassed our expectations," says Claeys.
The A320i was installed onto the glass bottling line, enabling EVIDEL to increase production speeds, while the A300 was transferred to the new polycarbonate line.
"Since introducing the A320i in early June 2011, we have been delighted with its performance and our return on investment," says Claeys. "We have achieved a five percent increase in efficiency on our bottling line, which has resulted in a much greater production of bottles per hour, and during this time, we've also benefited from 100 percent uptime. In addition, the integral Qube ink system, which houses the working ink and monitors performance, means we still haven't had to replace the ink."
"The A320i really does deliver totally stress-free coding and has provided us the 'switch on/switch off' solution we were looking for. We can now concentrate on our product without worrying about the necessary coding requirements, as the A320i does it all for us."
Companies in this article