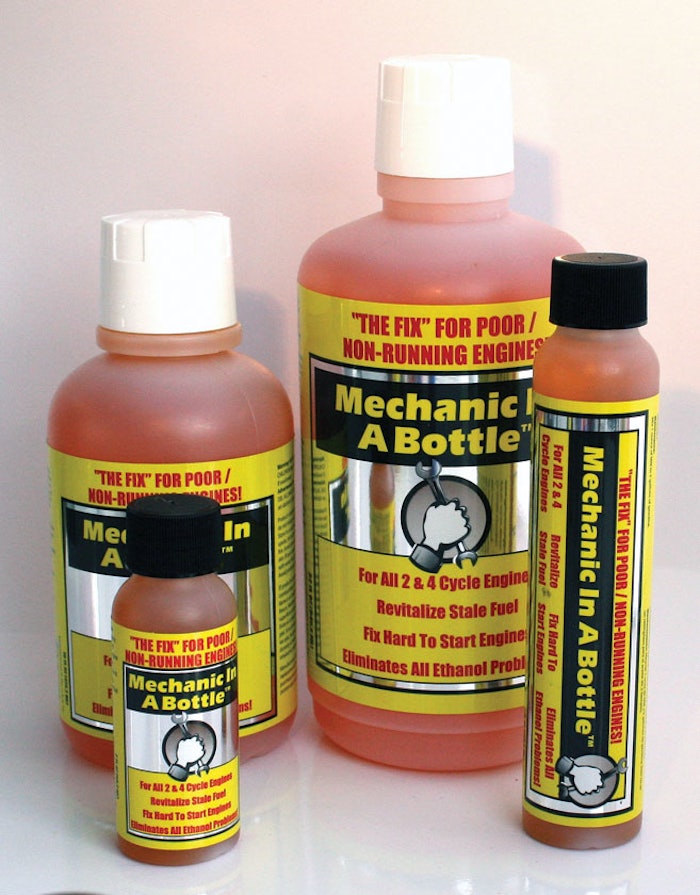 B3C Fuel Solutions, LLC, Conway, SC, specializes in the formulation of eco-friendly fuel additives that reduce emissions, decrease engine wear, and enhance fuel efficiencies to maximize fuel mileage. The company's Ethanol Shield™ product is a preventative maintenance fuel additive designed for everyday use. The Mechanic In A Bottle™ product is engineered to thoroughly clean the fuel system and combustion chamber.
The company has been working closely with the Equipment & Engine Training Council (EETC) to ensure that EETC-certified technicians have full knowledge of how ethanol interacts with and creates an impact on power equipment. EETC executive director Jim Roche says, "We are pleased to collaborate with a complete fuel solutions company such as B3C to advance equipment and engine training and education for technicians in the power equipment industry."
Labeling operations upgrade
To label their fuel solutions products, B3C had been using a manual label application/push pedal system. The company wanted to increase labeling speeds and production volumes and reduce labor requirements.  After evaluation of various options, the company opted to install a Model 3015 labeler with a Model 5100 wrap system from Label-Aire.
The Model 3015-ND Wipe-On Primary Applicator accommodates pressure-sensitive labels at speeds up to 1,000 inches of web per minute with positioning accuracy of +/-1⁄32". The unit easily can be converted to handle left- or right-hand use and can apply labels to sides, tops, or bottoms of containers. The rugged Model 5100 In-Line unit is engineered to reliably handle full- or partial- wrap labeling at medium to high speeds in high volumes and multi-shift operations.
The bottles are fed to the filler, auto capper, and sealer. Then the labeling equipment applies labels  before the bottles are boxed for shipment. The labeling equipment was supplied and is serviced by Label-Aire distributor MPI Label Systems. MPI also supplies the preprinted labels.
B3C chief operating officer Bob Boezi reports, "We chose the Label-Aire system because we wanted a machine that has a good name, reliability, and is made in the USA. We installed the system at the end of February 2011, and we currently are running four different bottle sizes and two different products in those bottles."
The HDPE bottles are supplied by Georgia Bottle Co., Inc. (229/263-7477). The filling and capping equipment is supplied by Riada Equipment Ltd., Inc. Induction cap sealing equipment is from Pillar Technologies, and the plastic caps are supplied by Reliable Caps, LLC.
Start-up and stand-out benefits
Regarding the equipment training and start-up, Boezi reports, "Label-Aire and MPI personnel were very involved, and the start-up was accomplished very professionally. We had a couple of small start-up issues, but their technicians responded to us without delay. All we have to do is make a phone call, and we get help right away."
B3C is pleased with the improved productivity and reduced labor requirements associated with the new labeling system. Boezi notes, "We are happy with the performance of the system. We like the high-profile appearance of the labels and the self-explanatory message regarding product functions. We also like the fact that it's easy to get labeling system service when we need it, and the equipment is made in the USA."
Companies in this article