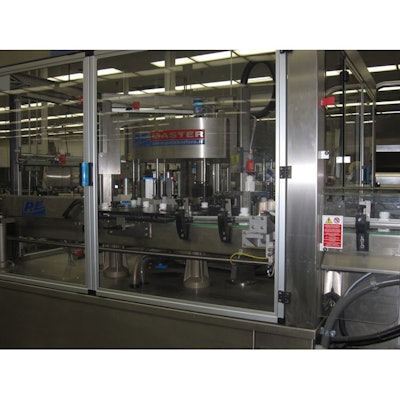 Packaging always plays a significant role in helping Nutrilite deliver the freshest nutritional supplements, vitamins, and minerals to its direct distribution network. "We believe strongly that packaging is our gatekeeper in that the packaging department is the last to handle the product before it goes to the customer," states Darryl Allen, lead mechanic, packaging, at Nutrilite's Buena Park, CA facility.
Nutrilite regularly updates and improves machinery on its packaging lines. A perfect example of the company's packaging commitment is Buena Park's K Line, a solid-dose bottling line. The "K-Line Xpress" was awarded "Packaging CIT (Continuous Improvement Team) 2010 team of the year" by Amway for its efficiency improvements.
The K-Line Express team implemented 45 employee ideas that led to the line's 2010 run performance of 121%, the average run rate for the year, which never dropped below 100%. That represented a 167% improvement over 2009. Those gains drove the company's CIT Audit average audit score to 11.3 out of a possible maximum score of 12. On one 2010 shift, those improvements helped the line produce a record 39,000 bottles, more than double the 14,000 that's considered routine.
Key to the line is a PE Labelers USA rotary labeler (shown) supplied by PMC Packaging Machinery Central. The labeler delivered a 38% improvement in uptime compared with the in-line unit it replaced.
The previous labelers had a primary limitation, says Allen: "They weren't able to keep up with the speed of our production. They could go up to about 120 a minute if we maximized the machine, but we didn't run it that fast or we would have experienced even more downtime than we had. Plus, we wanted to run at 150 a minute. The in-line labeler was a bottleneck in our production."
To alleviate the bottleneck, Nutrilite added two of the new PE labelers to two of its bottling lines in 2009. "Last year we added another one and we have plans for one more in 2011," says Allen.
Why the PE machines? "We had worked with George Lastra of PMC on other labeling equipment. What made us work with him and use the PE Labelers was that we wanted to get into the rotary machines to get the speed that we wanted to get. That really eliminated a lot of other companies. We're now able to go up to 150 a minute, with less downtime."
Line improvements are the result not only of new machinery, but also a series of changes made on the equipment. For example, the rotary labeler was originally equipped with two label roll spindles opposite one another. Now they are both positioned next to each other, making roll threading more efficient during changeovers on both four- and five-panel labels. A handful of other key team improvements on the line include the following:
• By turning a cylinder on a cottoner to work in reverse and using the groove on the side to guide the bottle positioning finger, timing has improved and piston stress was eliminated. The change also permits easy tool-less changeovers.
• A lane changeover guiderail for bottles under the filler was old and covered with tape. A new stainless-steel rail system and plastic lane changer provide improved efficiency at this point in the line.
• Cylinders on the filler were so dated that identification numbers had worn off the equipment. New stainless-steel body cylinders now permit tool-less adjustments.
• A "U"-joint used to drive the capper's gripper belts would often wear out and break. By using a ball-style, stainless-steel U-joint, the line enjoys more uptime.
"The changes made a huge impact on the line and made our jobs easier," notes Allen. He credits the line's improvements to the company's management, who invested in packaging machinery, and the award-winning K-Line Express team, which includes Oloa Sofala, Lety Caballero, Maria Guzman, Josefina Sierra, Cherilyn Rami, Ana Machiche, Flor Ibarra, Luz Razo, Jessica Saldana, Yolanda Valle, Ernest Mendoza, and Alfredo Zamora. Special thanks go to Bryan Phillips, team mentor, Sheila Matthews, packaging supervisor, and Susan Youngquist, packaging manager.
Home-grown and sold direct
It should come as no surprise that Nutrilite relies considerably on its own personnel to make Line K so productive. After all, company founder Carl Rehnborg's philosophy of "seed-to-serving" involves self-sufficient practices that range from farming the company's 6,400 acres in a sustainable, chemical-free manner to dehydrating and processing the plants within hours of harvest to capture the nutrients to following Good Manufacturing Practices and then to packaging the nutritionals soon after production to maintain freshness. Also unique is Amway/Nutrilite's direct sales approach that focuses on independent business owner and Internet sales rather than the industry's more traditional retail approach
Allen explains that Nutrilite serves global markets, with the 400,000 sq-ft Buena Park facility packaging solid-dose vitamins, minerals, and nutritional supplements on 14 different packaging lines. Seven of them are bottling lines, three are pouch-packing lines, two are for cartoning, one is for multipacking, and one is for pillow-pouch packaging.
Most of the bottles carry 30, 60, or 90 tablets. The lines run 20 hours a day, six days a week, with about 4 million packaged units produced every month at the California facility.
Asked how the company justifies the economic investment in people and machinery in packaging, Allen responds: "A person's health is always important. Whether the economy is up or down, people try to take care of themselves. And that's probably more so during a down economy because they want to take vitamins to help prevent the possibility of incurring larger healthcare expenses that they may not be able to pay for."
Line leads to labeling
Line K, which operates on two daily 10-hour shifts, five days a week, fills both round and square bottles, with 30 or 90 tablets or capsules. Bottles are supplied by Berry Plastics. Closure, and label suppliers vary and are considered proprietary.
Bottles are fed to the line via an unscrambler from Omega Design. Bottles are conveyed on their bases through a Merrill-brand dual-lane slat filler from Nova Packaging Systems that fills eight bottles at a time, first on one side, then immediately on the other. Filled bottles then proceed through an Ishida checkweigher and Ceia metal detector, both from Heat and Control.
Afterwards, a Kaps-All capper screws on a lined closure before the bottle is induction-sealed on an air-cooled machine from Pillar.
Bottles continue on the conveyor onto a Garvey accumulation table that can hold up to about eight minutes worth of production if necessary. A Videojet Excel™ ink-jet printer prints lot and expiration date onto the bottom of the bottle, as well as any other information required on the bottle by the country in which it will be sold.
At this point, coded bottles convey through a feedscrew and starwheel into the PE labeler. According to PMC president George Lastra, "The Nutrilite application is unique. The five-panel label means that the leading and trailing label edge meet on the back side of the container. In-line labeling doesn't offer the level of container, label, and label placement control Nutrilite needed for this label."
Bottles are transferred from the timing screw onto a rotary turret where they turn. A series of brushes applies the label to the bottle at the first of eight stations on the machine. The four- or five-panel labels are applied at various stations on the rotary labeler.
'Five-panel' labeling
One of the most challenging labeling aspects for Nutrilite is applying the five-panel label on a four-sided rectangular bottle. The label is initially applied in the middle of what serves as the back panel of the bottle, which is considered the first panel. The label goes from this portion of the first panel "around" the second panel, then the third panel where the majority of graphics and information is printed, around the fourth panel, and finally up against the initial portion of the first label panel. Nutrilite refers to this portion of the label as the fifth panel.
"Application of the five-panel label was a challenge for previous in-line labeling equipment," says Allen. That machinery used what was called a 'swinging-door' application, where the bottle comes in sideways for application of the label, with the bottle moving onto a rolling belt that wraps down the fourth and fifth panel."
As labeled bottles discharge from the rotary labeler's starwheel, they go through a photo inspection system from Mettler Toledo CI-Vision that checks for label placement and accuracy. Another Videojet machine coder prints date and lot codes on the label. An Allen Bradley PanelView Plus 600 terminal from Rockwell Automation allows operators to control the labeler on the line. Bottles are subsequently case-packed and stretch-wrapped prior to distribution.
"In the future," says Allen, "we are likely to replace our in-line labelers with the rotary PE machines once a year until we get all seven replaced." That's a commitment that exemplifies Nutrilite's focus on maximizing its packaging equipment to deliver its nutraceuticals with what it calls "just-in-time" freshness. Carl Rehnborg would be proud
Companies in this article