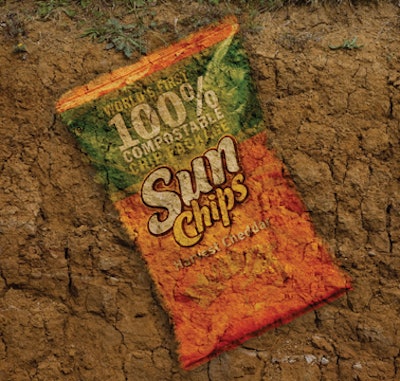 Although previously used in packaging such as deli containers, carryout bags, and disposable serviceware, compostable packaging until that point was not much of a topic of consumer debate in the U.S. With such a large-scale investment in compostability by Frito-Lay, however, more questions are being asked about the existing U.S. infrastructure for composting and its viability as a large-scale end-of-life packaging solution.
Answering some of these questions, the Sustainable Packaging Coalition has released its findings from a new survey of U.S. composting facilities, "Compostable Packaging: The Reality on the Ground." The report is compiled from the responses of 40 facilities chosen to represent a diversity of plant sizes, composting methods, and geographic locations. Because compostable packaging is typically associated with or accompanies food waste, the SPC selected only composters that accept food waste. Says the report, "This subset was intended to provide a range of experiences with packaging, rather than gauge the total U.S. capacity for processing compostable packaging."
One of the major findings of the report was that 90% of the facilities surveyed actively accept compostable packaging. Among the reasons cited by those that do not are the potential for contamination from conventional plastic packaging; the time it takes for compostable packaging to break down; and the difficulty in identifying whether packaging is certified compostable. These facilities added that they would be more apt to accept compostable packaging if labeling were more clear.
Overall, 82.5% of the facilities surveyed noted that standardized labeling is one of the most significant areas for improvement. Suggests the SPC, "To maintain a consistent look and feel, it may be appropriate to codify the label in law to enable government oversight, level the playing field, and limit greenwashing potential."
SPC adds that there already is an established certification program in place in the form of the Biodegradable Products Institute (BPI) "so the solution is not to replace that logo," it advises. "Rather, to address the mentioned concerns, it must be a dialogue about modifications for visibility, commonality, and enforcement."
One of the conclusions of the study was that compostable products and packaging are most effective when they assist in the diversion of other organics, particularly food waste, because this improves business for composting facilities and makes hauling more efficient. In fact, 72.5% of respondents reported that compostable packaging allows them to increase food waste tonnages.
The report is available free to SPC members and to nonmembers for $50. greenerpackage.com/node/2753
Companies in this article