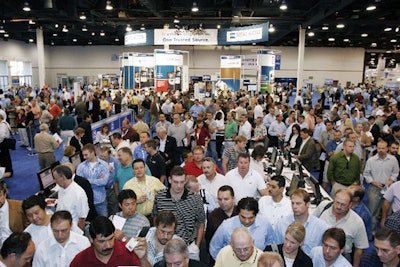 Differentiate products on the retail shelf. Enhance operational efficiencies. Decrease manufacturing costs. Achieve sustainability goals. These are only a handful of the goals consumer packaged goods companies and private label manufacturers face every day.
At Pack Expo 2009 (October 5 to 7; Las Vegas Convention Center), brand owners will discover the innovation they need to satisfy these objectives. More than 1,200 exhibitors will spotlight advanced technologies for the entire supply chain, including packaging and processing machinery, components, materials, and containers. This year's show will also include several new features and pavilions and an extensive line-up of industry-related events and meetings to be held in conjunction with Pack Expo—all creating further value for attendees.
A "Brand" new focus
As consumers continue to weather the recession, they are scrutinizing spending and trying to get the best value for their dollar. For many shoppers, that means turning to packaging for clues about the product inside.
To help brand owners maximize success on the retail shelf, Pack Expo will mark the debut of The Brand Zone. Spanning more than 50,000 net square feet, The Brand Zone will help brand managers, "Open Innovation" executives, marketers and package designers find the technologies needed to launch new products, reinvent existing brands, and improve sustainability scores.
Exhibits will include new materials and containers that increase visual impact, enhance convenience, maximize shelf life, and add functionality for ease of use. Among the solutions will be the latest advances in glass, plastic and paperboard packaging, decorating and labeling techniques, and resealable technologies. The Brand Zone will also offer access to business intelligence and other resources that can help attendees gain a competitive edge.
"Innovative packaging plays an important role in brand success," comments Charles D. Yuska, president and CEO of PMMI, sponsor and producer of Pack Expo. "The Brand Zone will provide the necessary tools to meet consumer demands for attractive, functional, and convenient packaging."
The Brand Zone will also house The Showcase of Packaging Innovations™, sponsored by The Dow Chemical Company. This special area will feature award-winning package designs from around the world and nominees for the annual Pack Expo Selects™ program, which recognizes best-in-class consumer packaging.
PMMI partnered with Lippincott, a global brand strategy and design consultancy firm, to design The Brand Zone and create a unique experience for Pack Expo attendees.
Pre-planning for post-show results
Because efficiency is especially top of mind today, why not apply its principles to pre-show planning?
To help attendees get the most out of their time at the show, PMMI has redesigned Packexpo.com. Visitors to the new Web site will find several innovative features and enhanced functionality. For example, exhibiting companies have comprehensive online booths that include detailed product pages, press releases and information on show-related benefits or added-value programs. Listings will remain active for several months following the show, allowing attendees to close the loop on business opportunities discovered on the show floor.
Attendees can also take advantage of their personal portals, My Pack Expo™. My Pack Expo intelligently mines the show's database of exhibitors, keywords, products, services and conference sessions based on individual criteria entered when registering. Attendees can locate specific suppliers and solutions, schedule appointments with exhibitors, and register for Conference at Pack Expo educational sessions, all before they step foot on the show floor.
Pre-show planning has even gone mobile, thanks to a new technology called ChirpE. This downloadable application links users directly to Packexpo.com in real-time and allows them to search for products, exhibitors and sessions, create itineraries, and download floor maps.
"Our goal with the new Packexpo.com is to allow attendees to customize the show to their individual requirements, helping ensure a successful experience," explains Yuska. "Whether they have one, two, or three days to spend at Pack Expo, this site provides tools to save time and achieve their business goals all year long."
Bringing value to Vegas
To help packaging professionals stretch their travel time and budgets, PMMI is collaborating with leading industry associations to offer a range of additional programming.
• The Association of Independent Corrugated Converters (AICC) will hold its 2009 Annual Meeting and 14th International Package Design Competition Oct. 5-7, at the MGM Grand Hotel, in conjunction with Pack Expo. The meeting's agenda includes a series of eye openers, general sessions and networking events built around the theme of "Survive and Thrive through Packaging Diversification." AICC's International Corrugated Package Design Competition will be featured in The Brand Zone at Pack Expo, near "The Showcase of Packaging Innovations¨. AICC attendees will receive complimentary admission to Pack Expo.
• The MGM Grand Hotel will also be home to The International Bottled Water Association's (IBWA) 2009 Convention and Tabletop Trade Show (October 5-9). This is the second time the IBWA and PMMI have collaborated to benefit the customer audience, membership, and other partners. IBWA Convention and Tabletop Trade Show attendees will receive complimentary admission to Pack Expo exhibits.
• In addition to hosting its annual meeting in conjunction with Pack Expo, the Reusable Packaging Association will facilitate a special four-session track of Conference at Pack Expo programming. Led by industry experts, end-users and retailers, these four sessions will focus on a range of issues related to reusable packaging including sustainability, RFID, and effects on the supply chain.
• Pack Expo will feature the new DistriPak Pavilion, dedicated to packaging and paper distributors, and sponsored by the NPTA Alliance (formerly the National Paper Trade Association). The DistriPak Pavilion will be located in the lower part of South Hall.
• Reflecting the new market synergies of the package printing, converting, finishing machinery and supplies industries, the Converting and Package Printing Expo (CPP EXPO) will showcase the latest in printing, coating, slitting, and other state-of-the-art finishing processes.
• Sponsored and produced by the Food Processing Suppliers Association (FPSA), PROCESS EXPO will highlight equipment applicable to fruit and vegetable, beverage, canning/freezing, environmental, instrumentation, prepared foods, can making, meat, dairy, and snack food industries. "Pack Expo has always focused on giving attendees access to the entire packaging supply chain," comments Yuska. "Bringing together these leading industry associations capitalizes on their natural synergies to give attendees further business reasons to make the trip in October."

Companies in this article