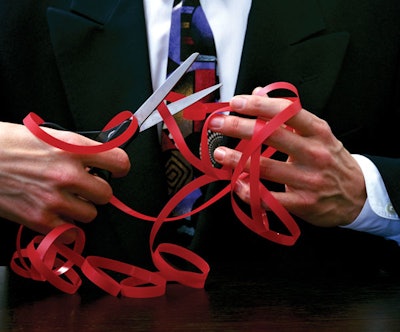 Given our global marketplaces today, many packaging makers who develop new materials or new structures or new uses have one eye on U.S. compliance and one on compliance in other countries, especially the EU.
So it's news to hear that the EU has decided upon a specific new regulatory regime applicable to what they call "active and intelligent" packaging for food contact.
Active packaging would release or absorb substances in an attempt to improve or extend food quality. Think, for example, of an oxygen absorber. Intelligent packaging monitors the food or its environment, and it indicates when changes occur. For example, an indicator that changes color in the presence of microbial contamination.
The EU regulatory body EFSA plans to require evaluation of the safety of all such substances, labeling requirements for packaging containing them, and certifications of compliance by the company using the substance.
They are contemplating a full application process before marketing, including information about the substance and its migration and toxicology, followed by EFSA publication of a list of cleared substances they find to be safe.
The EU regulators think they are helping commerce by making this an EU-wide system, but from the point of view of outside companies, the new regulations set up a new barrier to entry to the European market.
The new EU rules for active and intelligent packaging are a significant new burden for manufacturers, says Brussels-based attorney Sebastien Louvion. A new and important requirement for such materials, he points out, is that they be shown to be suitable and effective for their intended uses, "in addition to meeting all other general safety requirements for packaging materials under the existing regulatory framework."
There isn't yet a similar effort in the U.S., though some packaging technologies that perform what might be called active functions do seem to stray conceptually from the traditional functions of packaging.
Remember that the legal definition of a food additive is, to paraphrase, anything intentionally added to food or something that indirectly gets into food or otherwise affects the characteristics of the food. Well, let's face it, packaging affects the characteristics of food whenever it protects it from dust or dirt, or helps it hold its shape, or does many other things.
Well, a Food and Drug Adminis-tration regulation makes clear that when it comes to packaging components, "affecting the characteristics of food" doesn't include "such physical effects as protecting contents of packages, preserving shape, and preventing moisture loss," and that "if there is no migration of a packaging component from the package to the food, it does not become a component of the food and thus is not a food additive."
Some newer, more active uses of packaging might be viewed as challenging this US regulatory exception, such that some uses of packaging materials would be considered food additives simply because they affect the characteristics of food in new and different ways, far afield from more traditional functions like preserving shape and preventing moisture loss.
Here's hoping no regulators will go out of their way to impose new burdens on food contact materials makers, and that any changed requirements will be carefully limited to situations where they are strictly necessary to assure safety.
Eric can be reached at greenberg@efg-law.com, and visit his firm's Web site at www.ericfgreenbergpc.com.