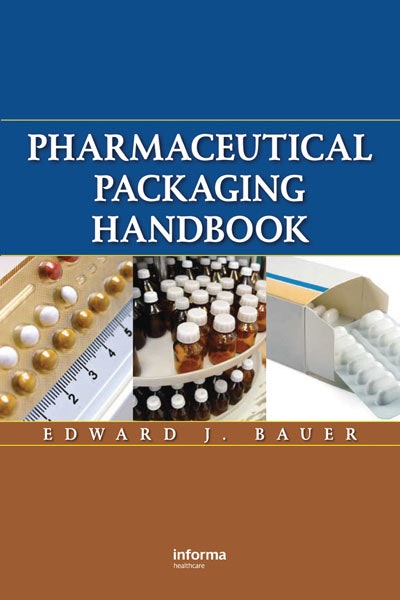 For many packaging professionals, The Wiley Encyclopedia of Packaging Technology by Aaron L. Brody and Kenneth S. Marsh has long served as perhaps the source for packaging technology information. Yet there's not been an overall text resource for packagers in the healthcare/life sciences industries. Enter the Pharmaceutical Packaging Handbook by Edward J. Bauer.
But don't let the book's title fool you—it's merely for brevity's sake. Bauer's text explores the packaging of pharmaceuticals as well as biologics, medical foods, and medical devices, and it even delves into the regulatory environment—a must in these healthcare fields.
This is the first book written by 2006 Packaging Hall of Fame inductee Bauer, who continues to expand his career and experiences, currently in product development for Pittsburgh-based General Nutrition Centers, Inc. (GNC). The nearly 600-page hardcover effort is hot off the presses from publisher Informa Healthcare USA Inc. (www.informa.com). Bauer's professional career includes positions at Bausch and Lomb, American Home Products/Wyeth Ayerst Laboratories, and Ross Products Div. of Abbott Laboratories. Bauer was also a presenter at the 2008 Pharmaceutical Packaging Forum (www.packworld.com/ppf).
"The book's target audience is anybody who is in pharmaceutical packaging and deals with packaging of regulated products," says Bauer. "It touches on nutraceuticals and prescription medical foods, such as infant formula." He believes the publication would also be suitable for classroom teaching.
In the preface, Bauer describes the book's origins: "Pharmaceutical packaging is a subject that rarely comes to mind when thinking of drugs, medical devices, or other divisions of the health care industry. Packaging done well provides protection, sterility, and safety. Health care professionals and patients hardly give it a thought. Packaging done poorly usually means a package that is hard to open. These perceptions and the almost invisible presence of packaging science in most peoples' understanding of pharmaceuticals was the idea behind this book."
The book, he intimates, is rather unique: "There may be the occasional white paper or commentary on a specific area, yet I don't know any place where you can find a continuum of information like this contains."
The book, which costs $229.95, includes "well over 100 charts or illustrations," he estimates. From a graphics perspective, more illustrations, perhaps even photos, would add some appeal. From a financial point of view, it's understandable that there is no color in the handbook.
But this is not a coffee table-type book; it is a substantive text covering packaging complexities, an important written resource that can benefit engineers, marketers, purchasers, and virtually any packaging professionals or students wanting to know more about packaging in the life sciences areas.
Building the packaging story
The Pharmaceutical Packaging Handbook opens, appropriately enough, with an "Introduction to the Pharmaceutical Industry: An Overview." Definitions, trends, and differences between pharmaceutical and food packaging provide a sound foundation for what follows: chapters on the drugs, biologics, and medical foods themselves, and their respective packaging requirements.
Following these four chapters, it would have been logical to dive into the 80-plus-page chapter on pharmaceutical packaging materials, which exemplifies Bauer's professional expertise. Yet, chapter five focuses on "The Regulatory Environment," where the author states, "Packaging faces the same rigorous review process as the drug itself. Packaging is considered part of the drug, and this is stated clearly in the regulations as part of the complete descriptions and definitions used to define packaging as part of any drug submission." Here he succinctly guides readers through the drug review process, the clinical trial stages, approval by the U.S. Food and Drug Administration, post-marketing surveillance, and current Good Manufacturing Practices. Bauer addresses essential qualification and validation issues here as well.
Next comes the aforementioned materials chapter, which examines glass, metal, plastics, polymers, and copolymers. Chapter seven provides 20 solid pages on medical device packaging, regulations, standards, and test procedures, a healthy primer an a subject area that's separated from pharmaceutical packaging in much of the life sciences industry. It's a most welcome educational addition by Bauer.
Package making, closures, and labels '
He then devotes nearly 50 pages to "Container Fabrication," providing educational information on manufacturing glass, metal, plastic, and thermoformed containers.
The challenge of sterilization, and the different sterilization processes are reported upon next, including heat, chemical, and radiation sterilization methods.
A considerable effort is given to "Container Closure Systems: Completing All Types of Filled Pharmaceutical Containers," in chapter 10. Descriptive details are provided on closure functions, types, dispensers, and liners, all of which are especially important in pharmaceutical containers, particularly in achieving child-resistant and senior-friendly qualities.
Continuing his path from the product outward to the container and closure, Bauer takes readers to the label, and related labeling requirements, construction, product codes, standards, etc. Label copy is vital in meeting FDA and other regulatory guidelines.
Current issues addressed
Chapter 12, "Issues Facing Modern Drug Packaging," serves to engage readers in key packaging issues today and on the horizon. This chapter provides a thoughtful look at many of the most important topics in the life sciences industry, taking readers beyond descriptions of polymers, barrier properties, and the like. Here Bauer examines compliance to drug regimens, unit-dose packaging, anti-counterfeiting, environmental issues, and biodegradable materials—subjects approached frequently in Packaging World's sister publication, Healthcare Packaging magazine.
Bauer's knowledge and Hall of Fame status offer considerable credibility to this tome. Yet there's even more: Virtually every chapter of the Pharmaceutical Packaging Handbook offers a summary, "further reading," sources, and references, helping to justify the investment in Bauer's book. A 24-page glossary of terms gives you even more bang for your bucks.
Preceeding the glossary, Bauer provides multiple "take home" insights, including the following economic big-picture viewpoint: "The cost of health care will remain an issue. This fact will focus a spotlight on every aspect of pharmaceutical packaging, manufacturing, and supply chain."
Companies in this article