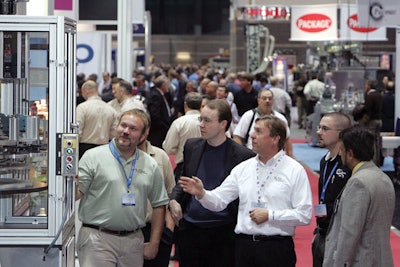 Sponsored by the Packaging Machinery Manufacturers Institute (www.pmmi.org), Pack Expo International 2008 runs November 9 through November 13 at Chicago's McCormick Place. Once again the show will feature the very latest developments in packaging equipment, materials, containers, and services. PMMI expects 2,000 exhibitors to be on hand, and they'll occupy more than 1.1 million sq ft of exhibit space. More than 45,000 packaging decision makers will flock to Chicago to see what the exhibitors have to show. And among those attendees will be more than 6,000 international visitors from some 125 countries.
"With its size and scope comes breadth and depth," says Chuck Yuska, president and CEO of PMMI. "Companies can cost-effectively discover a wide range of machinery and materials to refresh existing brands, introduce new products, streamline operations, and reduce carbon footprints—all in a single location." Sure to be a highlight of the show is The Conference at Pack Expo. Powerhouse speaker number one is Amy Zettlemoyer-Lazar, packaging director of Sam's Club and co-manager of the Wal-Mart Sustainability Value Network. "Keeping score: How Wal-Mart and its suppliers continue to advance packaging change, innovation, and sustainability" is the title of her presentation. Technically a special event that is outside the Conference proper, Zettlemoyer-Lazar's presentation is scheduled for Sunday, November 9 at 1 p.m.
"Since Wal-Mart first unveiled its packaging sustainability scorecard concept to the industry at Pack Expo International in 2006, the scorecard has evolved substantially," says Ben Miyares, PMMI vice president of industry relations and director of the Conference at Pack Expo. "We are delighted to have Wal-Mart return to Pack Expo to share details on the scorecard's development and provide insight into the company's overall sustainability initiatives."
The Conference at Pack Expo runs Monday, Tuesday, Wednesday, and each day features a keynoter who will address sustainability (see p. 77 for the full conference program):
• Monday November 10, 10:10 a.m.: Betsy Cohen, vice president of sustainability at Nestle, will present "More safety vs. less material? Where does packaging go?" Cohen will address the challenges, conflicts, and competing values that packaging professionals must balance every day.
• Tuesday November 11, 10:10 a.m.: Trevor Cusworth, director, Deloitte Consulting LLP, will deliver Tuesday's keynote speech. His presentation on "Sustainability in manufacturing: From boardroom to breakroom" will use real-life case studies to highlight and demonstrate sustainable operations practices and will identify immediate actions that can improve the sustainability of manufacturing operations as well as longer-term actions such as designing and installing new lines and equipment.
• Wednesday November 12, 10:10 a.m.: Glenn A. Wright, commercial vice president North American Basic Plastics at The Dow Chemical Co., will lead the conference's final keynote session. Wright's speech, "Packaging is part of the solution, not the problem," will explore the positive environmental, social, and economic impacts of packaging and highlight real benefits that often go unnoticed. Consumer and industry data featured in this session will prove how packaging contributes to sustainability and how, when accompanied by education and industry collaboration, packaging not only benefits the environment, but strengthens brand promise as well.
"We're very pleased to offer Pack Expo International attendees opportunities to discover how they can improve their operations to achieve sustainability goals," says Yuska. "PMMI is committed to adding value to its events by focusing on issues that are at the forefront of our industry. Sustainability is top of mind with packaging professionals around the globe, and we felt it was essential to make the topic an integral part of Pack Expo International 2008."
Back again at Pack Expo this year are a number of special pavilions, including Containers & Materials, RFID, Contract Packaging, and the Brand Protection Center. Also returning is the Showcase of Packaging Innovations. This special pavilion puts on display hundreds of products from around the world that have been recognized for outstanding design by prominent international organizations. Attendees can also participate in Pack Expo Selects, which allows them to vote for the package deemed most innovative.
Don't forget about the two shows that are once again co-located with Pack Expo International. Process Expo will highlight the newest developments in processing technology to meet challenges faced by food, beverage, and pharmaceutical manufacturers. Sponsored and produced by the Food Processing Suppliers Association, the show will cover every aspect of the supply chain from equipment and ingredients to services and shipping.
The other co-located show is Converting and Package Printing Expo. It features the latest technologies for package printing, coating, slitting, and other state-of-the-art finishing processes to streamline operation and improve quality. A single registration fee allows access to exhibits for the entire five-day exposition and includes entrance to the co-located Process Expo and the Converting & Packaging Printing Expo. Show hours for Pack Expo 2008 are 9 a.m. to 5 p.m. Sunday through Wednesday. On Thursday, the show runs from 9 a.m. to 2 p.m. To register for the show, visit http://pei2008.packexpo.com. A complete alphabetical list of Pack Expo exhibitors begins on page 80.
Companies in this article
Videos from Universal Labeling Systems, Inc.