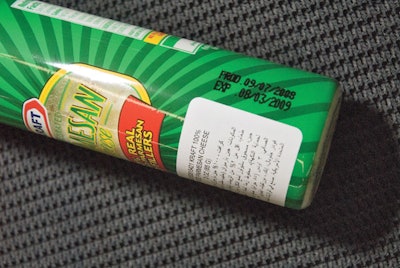 American Foods Export Services, Inc. (AMFEX), South Plainfield, NJ, is a unique, niche-market company that provides adapted label and coding services to major food companies and food distributors that ship products to international markets. AMFEX adapts the labels (including barcodes, date codes, and languages) of a broad variety of packaged food products to comply with country-specific shipment criteria. Approximately 60% of these products are delivered to the Middle East, including to U.S. troops stationed there.
AMFEX often needs to reformat codes to accommodate countries where date code laws are different than those in the U.S. and apply foreign language characters to the labeling. Rey Reino, AMFEX owner, says, "We reformat labels and codes according to country requirements and semantics. For example, some countries don't observe use-by or shelf-life dates, but instead need expiration dates. And, of course, we are probably the only country that puts the month before the day. So, if a product's expiration date is 10-5-09 in the U.S., it might mean May 10, 2009 in many other countries, which can create confusion. In addition, it's necessary to add ingredient listings in the appropriate language."
Depending on the packaging (for example, bottles, cans, bags, boxes), these tasks are accomplished by adding printing to the existing labeling or by manually applying freshly printed, pressure-sensitive labels to amend product information. AMFEX receives the food product shipments from the U.S. manufacturer, unloads the products, adapts the primary package labeling and coding, repacks the cases, and adapts the shipping case labels/codes, as required.
AMFEX uses printers and quick-dry water-based inks supplied by Domino Amjet (www.dominoamjet.com) for the printing/coding operations. To reseal the shipping cases, AMFEX uses Little David case tapers from Loveshaw, an ITW company (www.loveshaw.com).
The ink-jet printing equipment must be highly flexible and reliable to accurately handle these international labeling and coding complexities. In order to meet these requirements with quick changeover capabilities, AMFEX selected A-Series, stainless-steel, self-cleaning printers from Domino Amjet.
Reino notes, "We use seven Domino Amjets for our primary and secondary coding operations. On our five production lines, we output between 3,000 and 5,000 cases per day, depending upon product, package, case size, and labeling and coding complexity. We chose the Domino Amjet printers for the job because of our long, well-satisfied experience with the company and their equipment. Their technicians provide reliable service and quick responses to issues that may require troubleshooting."
The operator-friendly, easily programmable A-Series printers utilize a multidisk formatting tool to pull up the language of choice for each product application. The system can print up to four lines of data in a vast range of languages.
"In addition to the thorough printhead flush, the A-Series printers seal the nozzles once auto-flush has completed its cycle," Reino points out. "This prevents ink from drooling onto the printhead components when the system is powered down. This feature reduces ink waste and allows clean startup for the next run. We don't have to spend valuable time doing ink cleanup between runs. This easy-setup, keyboard interface coding system has integrated neatly into AMFEX's existing manufacturing lines, and Domino Amjet provides reliable support services. We have high confidence in the A-Series printers and how they allow us to send correctly coded and labeled foods overseas, including to our troops."
Companies in this article