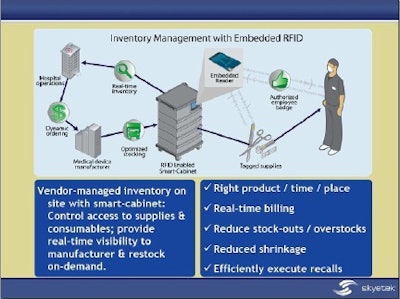 A June 5 Webinar entitled Supercharging Products With Embedded RFID, sponsored by Skyetek and presented by Skyetek vp of marketing and strategy Martin Payne, yielded some helpful advice.
"With smaller tags and smaller readers, there's really more places for RFID to go," Payne observed. These include smart cabinets, vending machines, and medical devices. Payne detailed the kind of information that can be stored on a tagged item, which include product type, origin, owner, chain of custody, digital signature (for authenticity), expiration date, service history, dimensions, and weight.
In the pharmaceutical and medical arena, Payne noted the use of smart cabinets by several customers to help prevent shrinkage and automatically track the right stock for tagged products or supplies. "A 'snapshot' can be taken at any time for inventory," he said.
Inventory can also be done using handheld readers to ensure the presence of the right product at the right place and the right time at the point of use. An example might be a tagged bag of blood matched to the blood type of the patient.
Payne said that RFID is not a panacea: "Know your use case," he emphasized. Other points he made worth knowing:
If your environment reflects light (aka stainless steel), then it also likely reflects RF waves.
UHF tags read better on dry days than on humid days.
RFID antennas size and brand matter: Bigger is better.
Although linear reader antennas provide better range, circular reader antennas are tag-orientation insensitive and can be any orientation.
"Plain vanilla" RFID tags will not withstand sterilization, which require specially encased and treated tags.
There are tags designed to work on foil or metallized pouches.
A reader can detect the relative position of a particular tag within a group of tagged products. For absolute positioning, a reader needs a fixed reference point, he added.
Payne noted applications in which RFID can be used to determine the power setting and time for microwave heating, or for packaged foods in a smart refrigerator that can monitor the tagged products including providing an alert if a product is expired or about to expire.