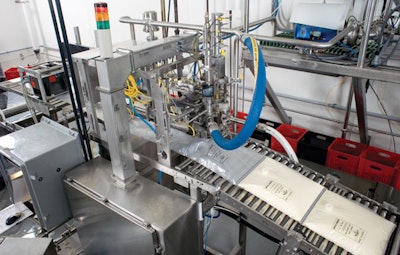 Galloway Co., a Neenah, WI manufacturer of frozen dairy dessert mixes for more than 75 years, recently decided to eliminate the pressure-sensitive labels it applied to mix bags.
"We went shopping to find a better way to identify products by printing directly onto bags. We were hoping to achieve a cost savings at the same time," says Rocco Vanden Wyngaard, process controls engineer at Galloway.
Shawn Myers, operations leader of the mix value stream at Galloway, adds, "We ended up improving food safety and product quality as well as package appearance."
Galloway turned to
Norwood Marking Systems/Allen Coding Systems
(
www.itwnorwood.com
) and its NGT series of large-format thermal-transfer coding systems to print directly onto bags. In summer 2007, the printers replaced print-and-apply labelers mounted on two facing bag-in-box filling systems from
Scholle
(
www.scholle.com
). Each printer is mounted on the infeed side of the machine, which uncaps the preformed bag, fills the bag, recaps it, and then indexes the bag from the machine.
Prior to installing the NGT printers, Galloway applied p-s labels to 2-, 21⁄2-, and 6-gal bags filled with ice cream, custard, sorbet, and gelato mixes going to foodservice customers nationwide. Rates are up to 10 bags/min per machine. Both machines run 16 hours daily, five days a week.
The printers worked like a charm from the start, according to Myers. After a day for installation, on that first Monday of operation, good packages were produced right from the very first bags off the line, he says.
Loaded into corrugated cases or plastic crates for distribution, the product bags are kept either chilled or frozen after filling. Before, the warm-to-instantly-cold transition would frequently cause the label's p-s adhesive to fail, and labels would occasionally detach. Plant personnel began searching for technology that could print directly on bags in-line at the bagging operation.
"We looked at four different suppliers," notes Vanden Wyngaard. "We considered the clarity of the print, the reliability of the technology, the ease of use, and the cost of the equipment. The larger print area of the NGT printers allows us to use a larger font, which makes it easier for our delivery drivers to differentiate product in the trucks."
The NGT printers are capable of producing the largest print area of any thermal-transfer coder in the world. They feature a print engine that can be turned in the frame. Manufactured by Norwood/Allen's distributor in Germany, ac codiergeräte GmbH, the printers allow Galloway to reduce manufacturing costs and improve production flexibility while enhancing product quality. The NGT 6 E units at Galloway produce a print area up to 6.3 x 6 in. Bags are printed with a best if used by date, a product description including size, and customer name and/or brand name.
Before, the labels measured 2 x 3 in. With the larger print area, Galloway increased the print size, making the copy more legible for delivery and other personnel.
"With the NGT printers, we can include much more information in a clearer fashion because of the larger print area," Myers points out. "We maximized the print size as much as we could."
Galloway can also time-stamp each bag and can easily customize labels for specific customers. In fact, according to Myers, Galloway has already added in a graphic or symbol even for some single-store customers as a custom, personal touch. It also has the option to print a bar code in the future.
Changeover improvements
Galloway typically changes product labels 15 to 20 times a day. These changes, which took 10 minutes on its labelers, can now be achieved in less than a minute with the NGT printers, which are connected to Galloway's plant-wide network. "To change the print job, it's a simple drag-and-drop maneuver in a Windows-based environment on the PCs that control the printers," says Vanden Wyngaard. "Actually, we can control the printers from any PC on the network, if needed. The optional touchscreen interface, used primarily for troubleshooting, is very easy to navigate."
Says Myers, "In addition, we have reduced the cost of product identification. Most important, we've improved food safety and product tracking by eliminating the possibility of labels detaching from the bag. The NGT printer assures permanent product and code date identification on each mix bag. The print doesn't easily flake off, rub off, or come off. An added bonus to this system is that we no longer have detached labels sticking to returnable crates and compromising our case washing system."
Companies in this article
Videos from Diagraph, An ITW Company