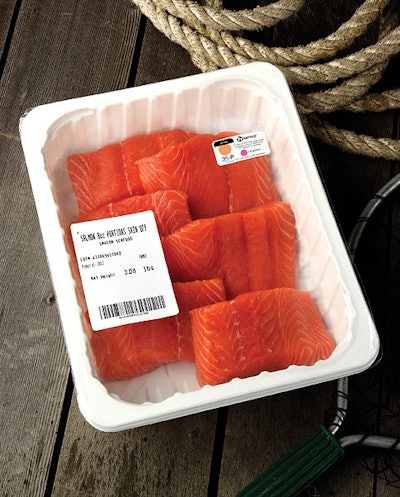 Like meat, it's another protein product whose shelf life after packaging can be extended if oxygen in the package is reduced. But the problem with fish is that if temperature abuse occurs, anaerobic bacteria—bacteria that thrive in the absence of oxygen—can cause botulism that can be lethal, even though the fish neither smells bad nor appears spoiled. That's why the Food and Drug Administration's Import Alert 16-125 requires a time/temperature indicator (TTI) in any fish product imported to the U.S.
Available from a number of sources, TTIs attach to a package and, when activated, begin a countdown that accelerates if the package is exposed to a temperature higher than expected. Sav-On Seafood, a St. Petersburg, FL, firm that sells fresh fish nationwide via third-party carriers like UPS or Federal Express, has used TTIs for several years.
According to Gib Migliano, Sav-On's president, the TTIs have been cumbersome to handle and not as reliable as he'd have liked. So recently he switched to TT Sensor™ active labels from Avery Dennison. These consist of an indicator label and an activator label. Automated application equipment is used to apply the activator to the indicator label—which is when the time/temperature monitoring begins—and then the indicator label to the package. Once activated, the TT Sensor will change from yellow to pink at a pre-determined rate based on temperature exposure.
Save-On applies the TT Sensor to as many as 3ꯠ trays of fish each day, at half the cost per sensor of the previous indicator.
"Plus, we don't have the additional expense of maintaining refrigeration for the TTIs," adds Migliano, something that was required when Sav-On was using enzyme-based TTIs. "The label applicators are also less expensive and much more efficient than the equipment that we had for the other TTI product.
"The health department loves going into the coolers and seeing the sensors on the packs," adds Migliano. "It shows the product is good."
See the story that goes with this sidebar: Case-ready meat is hitting its stride
Companies in this article