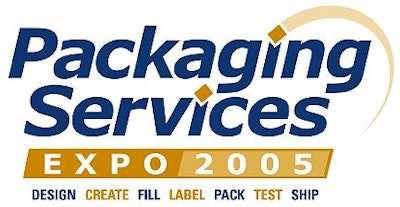 If you are a brand owner, manufacturer, packager, or retailer looking to launch a new product, improve speed to market, or achieve greater flexibility in your overall approach to the marketplace, Packaging Services Expo 2005 is the place for you. Managed by Tarsus Group and sponsored by the Institute of Packaging Professionals and Packaging World, the show runs May 10-12 at the Donald E. Stephens Convention Center in Rosemont, IL.
The timing for such a show could not be better, considering that the business of delivering contract manufacturing, packaging, and packaging services is now a multi-billion dollar proposition. An estimated 75% of items found in the kitchen, bathroom, or garage are not packed by the company whose name is on the label. Brand owners today focus on what they are good at, leaving the specialist packaging services companies to meet their non-core activities.
Visitors to Packaging Services Expo 2005—including blue chip companies, brand owners, and specialty manufacturers—will have the opportunity to find outsourcing partners to handle matters such as new product launches, product recalls, upsurges in demand, product or packaging compliance, specialty filling, packaging or labeling expertise, and fulfillment services.
Keynote and specialist conference sessions support the exhibition, with expert speakers discussing how contract packaging and partner sourcing has helped their business; reviewing the latest products and services available; hearing about the latest in smart packaging solutions; and discussing the latest compliance, regulatory, and quality requirements.
Expo hours are 10:00 to 5:00 Tuesday and Wednesday, 10:00 to 3:00 Thursday. The conference hours are 8:00 to noon Tuesday and Wednesday, 8:00 to 10:00 Thursday.
For a complete list of exhibitors and details on how to register, visit www.packservicesexpo.com.
Tarsus Group, Phone: 262/782-1900, www.packservicesexpo.com
• Exhibitor Listing, page 30
Companies in this article
Videos from Universal Labeling Systems, Inc.